The original Hartmann Neuron was an electronic musical instrument designed and built by German industry designer Axel Hartmann in the years 2001-2004. The Neuron synthesizer used an Artificial Neural Network to create a digital computer model from sampled sounds, implementing a new synthesis technology which was developed by Stephan Bernsee at Prosoniq.
New Synthesis Technology at the time
This computer model could then be used to resynthesize a new sound, giving the player control over "musical" aspects such as instrument body size, material and other acoustic properties. This parametric approach was very different from the more mathematical approaches of other synthesizers at that time. Hartmann had to file for insolvency in 2004 over a dispute with their former hardware manufacturer, who also happened to be their world wide distributor.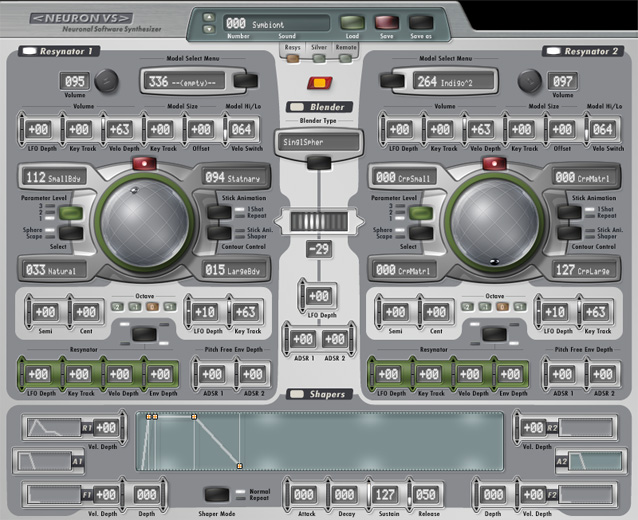 Neuron VST
Axel Hartmann and Stephan Bernsee have recently developed, or better said, revived the Neuron VST and are offering it for free. However it is only available for (Intel) MAC and not for windows. There won't be a windows version available at all, as the don't have the resources to develop it (so don't ask for it).
Axel and Stefan's project description:
"In 2000, Axel Hartmann and I, Stephan Bernsee, set out to designing a novel synthesizer based on artificial neural networks used for sound synthesis, the <NEURON> synthesizer. We were able to get support from a lot of people, including well known artists such as Hans Zimmer, and Hartmann Music as a company won several awards for innovation in synthesis technology.
Unfortunately and despite the huge interest in our products, due to some issues with distribution and our hardware manufacturer Hartmann was driven out of business in 2004. With the company dead there was no chance for <NEURON> owners to get tech support or updates.
Just recently, a Facebook group came into existence that managed to attract many knowledgeable and skilled Neuron owners who provide support and advice to each other in their spare time. To aid them in the process of keeping the Neuron alive I have dusted off the old NeuronVS sources in order to revive the NeuronVS VST plug-in, a software-only version of the Neuron synth that came with a powerful hardware controller, the <NUKE>. Thanks to the generosity of former Hartmann CEO Stefan Rapp and Neuron designer Axel Hartmann I am now able to provide an updated version of the original <NeuronVS> software here free of charge, (hopefully) free of bugs – and with no warranties of any kind."