The 4MIX is a compact USB DJ controller that provides direct access to 4-decks. The mixer area is a familiar 4-channel mixer with 3-band EQ, CUE, volume and a filter knob for each channel. The 12 rubber buttons on each deck provide direct access to Loop, Hot Cue, and Transport controls. The 4Mix has also been configured to use the volume knob and play buttons for direct access to Virtual DJs Sampler feature.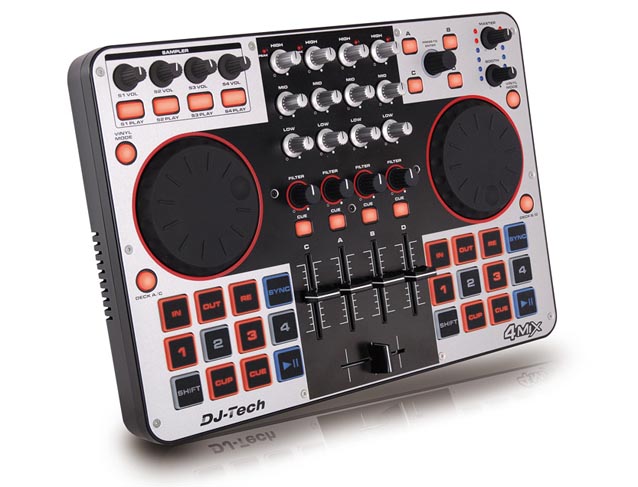 Integrated Audio Interface
The low latency integrated audio interface provides not only master and monitoring headphone outputs, but also a booth output with independent volume control. This allows the user to plug the unit directly into a club's PA system.
Virtual DJ LE Included
The 4Mix includes the popular Virtual DJ LE software. The included software is fully integrated with the 4Mix to control 4 decks.
Features
Large platters for accurate control and scratching

4 DECK layout with complete mixer

USB MIDI Controller compatible with all DJ midi software

Low latency audio driver included

Built-in audio connections for both preview and master outputs

Large knobs for direct access to filter

24 rubber pads for direct access to Cue, Loop and Transport Control

USB-powered device, no additional power supply required

Includes Virtual DJ LE