Waves Audio, a leading provider of audio DSP solutions for professional, broadcast and consumer electronics markets, and long-term collaborators, London's legendary Abbey Road Studios, are proud to introduce the new RS56 Passive EQ plugin, based on the original RS56 Universal Tone Control, utilized on a multitude of classic recordings.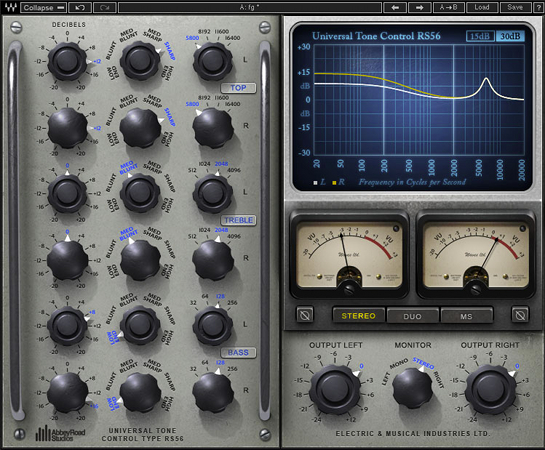 Originally introduced in the 50's
A passive equalizer with powerful sound-shaping capabilities, the RS56 Universal Tone Control was originally introduced in the early 1950s and used at Abbey Road Studios to prepare recordings for the record-lathe, as part of the process we now know as "mastering." Later, Abbey Road's pop engineers began using the RS56 for studio recordings because of its abilities to dramatically manipulate sound – unlike the basic treble and bass EQs found on the mixing consoles at the time. This earned it the nickname "The Curve Bender."
Waves and Abbey Road Studios have faithfully recreated the unique magic of the RS56, using advanced circuit modeling techniques based on the original schematics. Like its hardware predecessor, the Waves Abbey Road RS56 passive EQ plugin features three bands with four selectable center frequencies for each and six different filter types, plus independent or linked control over the left and right channels. The result is an extraordinary equalizer that is as effective today as it was when it was created over half a century ago.
Abbey Road Studios' Director of Engineering Peter Cobbin said, "The RS56 plugin has already joined the ranks of my go-to list, as it delivers an inviting sonic character along with a logical functionality. I would encourage any engineer to get creative with some lovely old-time curve bending, and tap into this fabulous piece of Abbey Road heritage."
The Waves: Abbey Road RS56 Passive EQ plugin is Native and SoundGrid® compatible. It is not included in any Waves bundle; it is only available separately. It is now available with a U.S. MSRP of Native $200, with a special introductory price of $99, and SoundGrid $300, with a special introductory price of $149. Visit www.waves.com for more information.