Universal Audio is proud to announce the shipment of the Apollo 16 Audio Interface and new UAD Software v.7.0, which provides multi-unit cascading, Virtual I/O, and other enhancements to both the Apollo 16 and Apollo audio interfaces.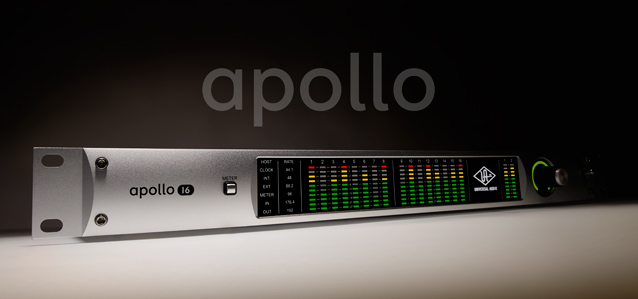 Flagship Audio Interface
Apollo 16 is Universal Audio's flagship 24-bit/192 kHz audio interface, delivering world-class conversion with 16 x 16 analog I/O. This uncompromising FireWire/Thunderbolt-ready* interface combines superior sound and flexible routing with powerful onboard UAD-2 QUAD processing. So you can track audio in real time through the full range of classic UAD analog emulation plug-ins — from Neve, Studer, Manley, Lexicon and more — on both Mac and Windows 7.*
Building upon decades of UA hardware expertise, Apollo 16 features meticulous analog circuit design, top-end converters, and DC-coupled outputs — providing the lowest THD and highest dynamic range of any converter in its class. Two Apollo 16 units can be cascaded over MADI for an expanded system with eight UAD processors and 32 x 32 simultaneous analog I/O, capable of handling large professional mixes.
Apollo 16 also offers compatibility with Intel's high-bandwidth Thunderbolt technology on Macs via a user-installable dual-port Thunderbolt Option Card (sold separately). Thunderbolt provides greater UAD plug-in instances, improved performance at high sample rates, and reduced UAD plug-in latency in the DAW versus Apollo's standard FireWire connection.
Now shipping, Apollo 16 carries an estimated street price of $2,999US. Apollo's Thunderbolt Option Card is also now available for an estimated street price of $499US.
* Requires Windows 7 64-bit edition operating system and a qualified PCIe-to-FireWire adaptor. Thunderbolt option is Mac-only.
New Software Enhancements for Apollo & Apollo 16
Universal Audio's latest UAD Software v7.0 provides significant enhancements to Apollo's workflow and expandability and adds the new Ocean Way Studios, SPL TwinTube, and Sonnox Inflator plug-ins to the UAD Powered Plug-Ins platform. Among these enhancements is multi-unit cascading, which allows for combining two Apollo 16 interfaces (for 32 x 32 analog I/O) or two Apollo interfaces (for 16 x 16 analog I/O, with eight Apollo mic preamps) into a single elegant system via FireWire or Thunderbolt.
The boost in Apollo connectivity is navigated via a redesigned Console application, offering better visual feedback, a new PT Mode which simplifies outboard hardware integration with Pro Tools, and a new Virtual I/O feature that allows for Realtime UAD Processing of DAW tracks and virtual instruments.
Download UAD Software v7.0 here. Learn more about the Apollo Audio Interface series here.