Native Instruments launched a new 'Happy Hour' sales special for the TRAKTOR KONTROL Z2 – the 2+2 channel DJ control mixer. The Z2 will be available exclusively to TRAKTOR DJs for the special price of $599 / 599 € / 59800 ¥ until June 30, 2013. Usually retailing at $899 / 799 € / 83800 ¥, TRAKTOR KONTROL Z2 is available both at the NI Online Shop, and at participating retailers worldwide. DJs wishing to take advantage of this special offer at retailers need simply to provide a valid proof of purchase for a TRAKTOR product.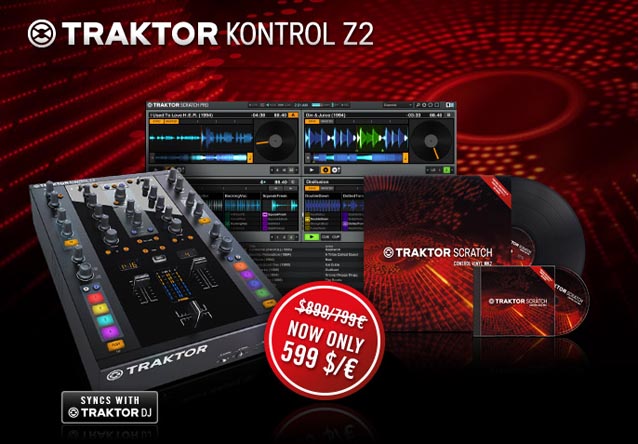 TRAKTOR KONTROL Z2 was launched in November 2012 as the world's first 2+2 channel control mixer. Constructed of aircraft-grade aluminum, the Z2 features two stand-alone channels with controls for two Remix Decks, and a high-quality 24-bit soundcard. The Z2 is also equipped with top-of-the line knobs and buttons, multi-colored cue point controls, and advanced Innofaders™. XLR outputs and a separate booth output ensure club compatibility, and allow monitoring. The hardware provides connectivity for both turntables and CDJs, offering options for both analog and digital setups. Users also get dedicated controls for the 'one-knob' Macro FX and Flux Mode – expressive features of the included TRAKTOR PRO 2 software.
TRAKTOR KONTROL Z2 ships with the latest version of NI's flagship TRAKTOR PRO 2 software. TRAKTOR PRO 2 includes over 30 studio-quality effects, powerful Macro FX, plus Flux Mode – a unique feature that tracks the time during advanced effect performances, allowing DJs to drop back in time with the beat after complex performance routines. For DJs who like to combine the flexibility of digital DJing with the feel of analog systems, the Z2 also comes with TRAKTOR SCRATCH PRO 2*. Timecode vinyl and CDs are included in the package. With TRAKTOR KONTROL Z2, DJs now have access to all aspects of their workflow from one powerful command center.
The Happy Hour special runs from June 1st until June 30th until midnight, Central European Time (CET), on June 30, 2013. During this period, TRAKTOR KONTROL Z2 is available to TRAKTOR users for $599 / 599 € / 59800 ¥. Customers purchasing from a retailer will need to present a valid proof of purchase for a TRAKTOR product to be eligible.
Additional information on TRAKTOR KONTROL Z2 is available at: www.native-instruments.com/z2-dj-mixer