Zynaptiq announces the immediate availability of their recently introduced adaptive tonal contour linearization plug-in, UNFILTER. It is a real-time plug-in that removes filtering effects, such as comb filtering, resonance, or excessive equalization – effectively linearizing the frequency response of a signal automatically. UNFILTER can also apply a detected filter response to another signal, or export it to disk as an impulse response file (WAV), and can perform mastering grade adaptive, free-form, and graphic equalization.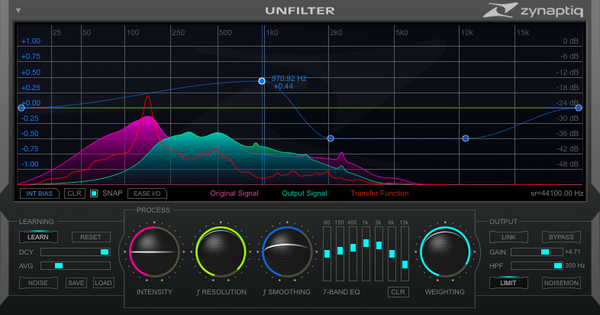 Usage
Applications include removing room resonance, repairing poorly mic'd production sound or musical recordings, enhancing the intelligibility of speech recordings in film sound, broadcast, ENG and forensics, adapting multiple sounds to blend better with each other, adaptively re-balancing the frequency response of mixed music, general purpose high resolution automatic equalization, and creatively designing new sounds.
The UNFILTER features at a glance
• Automatically detect and remove resonances, equalization, roll-offs and the effects of comb filtering from musical, location, dialog and surveillance recordings.
• Apply the measured filter response to other signals to place them in the same "acoustic world".
• Export the measured filter response to or import it from a linear- or minimum-phase impulse response file (WAV).
• Mastering grade adaptive, free-form and graphic equalization.
• Extremely steep 96dB/octave shelving high-pass filter.
• Output limiter for unsupervised use in batch processing applications.
• Highly time-efficient workflow and UI
Zynaptiq GmbH, based in Hannover, Germany, creates audio software based on artificial intelligence technology, and is also known for their award-winning de-reverberation plug-in UNVEIL and their real-time polyphonic pitch-mapping plug-in PITCHMAP.
UNFILTER comes as AudioUnits, RTAS, AAX Native and VST plug-in for both Mac and Windows operating systems, and is available now from the Zynaptiq website as well as select international resellers. A free trial version is available from the product page.
UNFILTER has an MSRP of USD 399 / EUR 369 (incl. 19% VAT). For more information, please visit the product website at www.zynaptiq.com/unfilter.