With the teaser video of last week still in mind, we can announce that Algoriddim have unveiled the new version of djay. For the past two years they've been hard at work creating a completely new version of djay. Today they are excited to announce djay 2 for iPhone and iPad, the best version of djay they have ever made!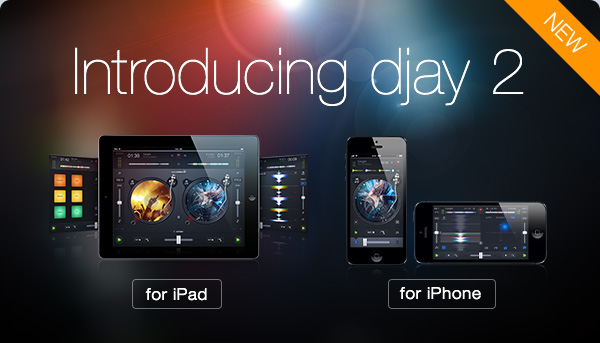 djay 2
Recreated from the ground up, djay 2 introduces a revolutionary new user interface that uses sliding layers to combine Turntables, Full Color HD Waveforms™ and a Sampler into an intuitive yet powerful all-in-one DJ system.
"djay 2 represents the very heart of what we do," says Karim Morsy, CEO of Algoriddim. "We put years of experience and input from millions of fans into every detail to create the best possible DJ experience on iPad and iPhone. We are thrilled to bring djay 2 to market and can't wait to see how our fans will utilize the new app."
All-in-one DJ System
djay transforms your iPad into a full–featured DJ system. Seamlessly integrated with your music library, djay gives you direct access to all your favorite songs and playlists on your iPad. You can perform live, record mixes on–the–go, or enable Automix mode to let djay create a seamless mix for you automatically. Whether you are a professional DJ or a beginner who just loves to play with music, djay offers you the most intuitive yet powerful DJ experience on an iPad.
What's new in djay 2
All-new user interface
Turntables, HD Waveforms, Built-in Sampler, Single Deck
All-new music library
Queue, history, instant preview, sorting, analyze library, dark mode, expandable full-screen mode
HD Waveforms™
Colored, parallel scrolling waveforms view, Beat Grids
Built-in Sampler
Included samples packs, live sampling, color coded drum pads
Advanced Remix Tools
Sync Mode, Loop FX, Slice Mode, Slip Mode
…and so much more!
To give all their loyal users the chance to upgrade, they are offering a 50% discount for the first week to everyone: