Madrona Labs are happy to announce that the Aalto 1.4 update for Mac and Windows is live on their website! This new version offers compatibility improvements, as well as over 100 new presets, improved integration with the Soundplane, and several features requested by users like you.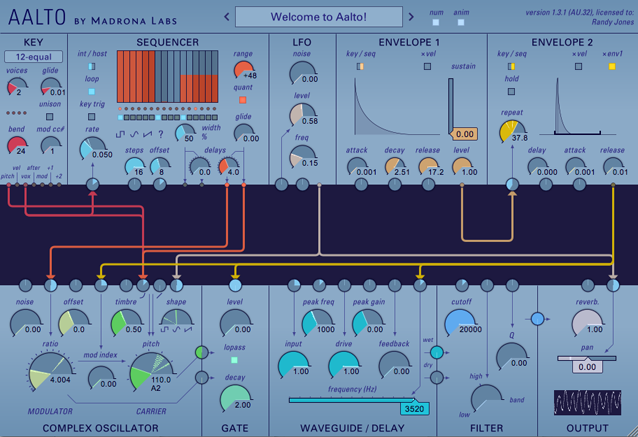 They have fixed the compatibility issue with Live 9.0.5.
Aalto 1.4 changes:
over 100 new presets
KEY module now recognizes MIDI sustain messages
fixed LFO self loop problem
SEQ: quantize now snaps to current scale in KEY module
touches over OSC / Soundplane are now quantized on release
fixed problem scanning MIDI programs in MainStage
fixed possible crash with preset menu in MainStage
fixed unison mode for OSC / Soundplane
fixed zipper noise in OSC / Soundplane input
fixed possible OSC-related crash in Ableton Live
fixed a problem with OSC / Soundplane input when UI was not open
fixed a problem loading presets with default tuning
fixed a problem where window could become stuck after maximizing
As always, if you have an Aalto license, just log in and click on "My Downloads" up there to get the new version.