Serato DJ 1.2.1 is the latest update for Serato DJ, now includes support for Serato Remote – Serato's first official App for iPad, support for Numark N4 and Vestax Typhoon controllers as a paid upgrade, and free Loopmasters sample content.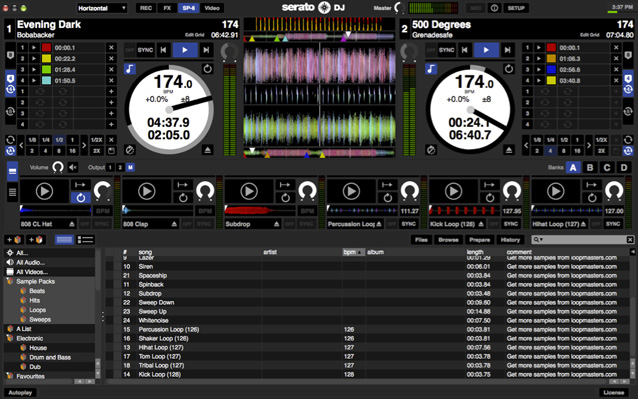 Serato Remote
Sam Gribben, CEO of Serato, says: "We've come a long way with Serato DJ since the launch in November last year, and this latest version is a big step forward. We're very excited to be adding support for Serato Remote; our first iPad App. Serato Remote is the perfect companion for anyone using Serato DJ with any of the supported Pro Series controllers, or any supported Intro Series controller with an upgrade to Serato DJ. This latest upgrade also unlocks great potential for Numark N4 and Vestax Typhoon customers, giving them their first taste of Serato DJ. We're working hard on the continued development of Serato DJ, and we're excited about what the future holds."
Serato DJ 1.2.1 Features
Support for Serato Remote
• Serato's first official App for iPad. Available now from the App StoreSM for USD19.99.
• Designed to compliment an existing Serato DJ setup, Serato Remote will connect seamlessly to your Serato laptop software and work with all supported Serato DJ hardware.
• Serato Remote lets you see and perform all of your favorite Serato DJ functions without needing to touch your laptop. Control Cue Points, Loops and Samples. Load tracks and manipulate FX in ways that weren't previously possible. See Serato's famous Virtual Decks and Track Overviews so you can focus on the crowd and free yourself from your laptop.
• Have control at your fingertips and enhance your Serato DJ performance. Serato Remote can be connected wirelessly freeing you to move around the stage or connected over USB for ultra low latency.
• Designed with real world performance in mind, using big easy to hit buttons focusing on the most important performance features.
• To watch Rui from Serato use Serato Remote, and for more information visit www.serato.com/remote
FREE Loopmasters sample content
• Serato have teamed up with Loopmasters to pull a range of samples from their immense and high quality catalogue of sound-wares.
• Get 24 of the best Beats, Hits, Loops and Sweeps FREE to you when you download Serato DJ 1.2.1.
• Simple installation. The Loopmasters sample content installer is included in the Serato DJ 1.2.1 download and will install straight to your Serato library as a crate. Get all the information here.
Other Changes
1.2.1 also comes with added performance optimization and stability fixes. Check the release notes for more information.
Hardware Support
Support for the Numark N4 and Vestax Typhoon Intro controllers added. To check if your controller is compatible with Serato DJ please visit the hardware page
Release Notes
Read the full Release Notes for Serato DJ 1.2.1.