GuitarJack 2 USB ships from Sonoma Wire Works' online store on July 16th, and will be available from authorized dealers worldwide within the next few weeks.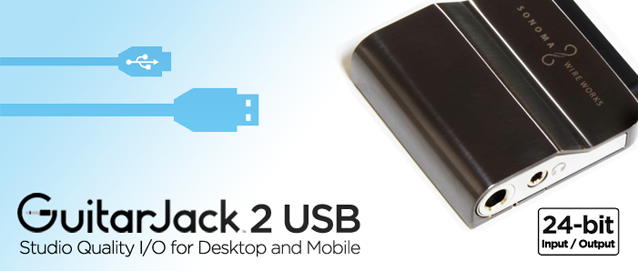 Studio Quality I/O for Desktop and Mobile
GuitarJack 2 USB is a studio quality multi-platform audio I/O interface for Mac, PC and select mobile devices. GuitarJack 2 USB eliminates the need for multiple audio interfaces for each device and/or operating system.
Attendees of Summer NAMM, July 11 – 13, 2013, are invited to see GuitarJack 2 USB demos and models of upcoming multi-platform audio I/O interfaces that will be displayed by Sonoma Wire Works in Full Scale AV's booth #811.
GuitarJack 2 USB Hardware Features:
24-bit AD/DA converters
1/4 inch (6.5 mm) instrument input – nickel-plated, solid brass Switchcraft (10,000 MTBF) jack
1/8 inch (3.5 mm) stereo mic/line input
1/8 inch (3.5 mm) stereo headphone/line output with increased drive for headphones
Micro USB connector
Sleek and rugged aluminum shell