Universal Audio, manufacturer of quality analog hardware, award-winning UAD Powered Plug-Ins, and Apollo Audio Interfaces have announced the release of the Pultec Passive EQ Plug-In Collection. Picking up where UA's legacy Pultec emulations left off, the new Pultec collection revisits two must-have Pultec EQs — the EQP-1A and MEQ-5 — and adds the HLF-3C filter.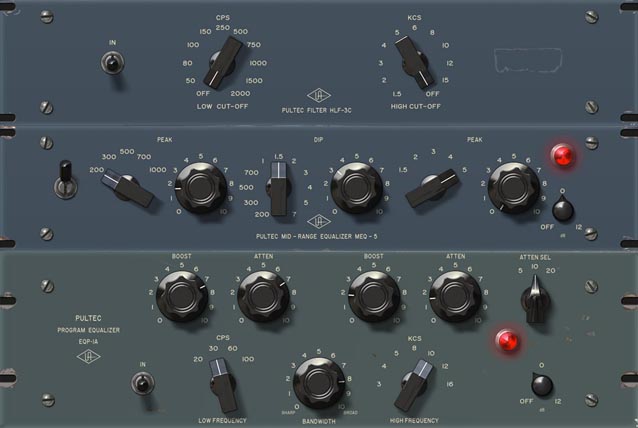 Classic Pultec EQs
Lauded as the most popular outboard studio equalizers ever made, these classic Pultec EQs can be heard on countless hit recordings from the past five decades. The EQP-1A Program EQ is famous for bringing out individual frequency ranges without significantly altering neighboring frequencies, remaining smooth and musical even with extreme levels of boost. With the companion MEQ-5 Mid-Range Equalizer, producers can skillfully tweak the mid-range thanks to its abundance of band overlap and unique filter interactions. Finally, the HLF-3C adds 12 dB per octave low and high cut filters, providing broad, retro-flavored tone sculpting.
The new Pultec Passive EQ Collection models the complex transformer and tube amplifier nonlinearities of these must-have tools, in addition to their unique filter interactions. The result is a dead-on emulation of the Pultec's signature air, silkiness, and warmth.
Available for purchase via UA's Online Store, the new Pultec Passive EQ Plug-In Collection is selling for $299US, or for $149US for current owners of the legacy Pultec Pro EQ plug-in. This new collection is part of the new UAD Software v7.1, which also includes the Millennia NSEQ-2 Plug-In and new Flex Routing for the Apollo and Apollo 16 Audio Interfaces.
Pultec Passive EQ Collection features include
Faithful circuit reproduction of the most popular outboard studio equalizers ever made
Models entire electronic path of three Pultec EQs — including tube amplifiers and transformers — for colorful, highly-musical distortion characteristics
EQP-1A Program EQ provides silky, vintage highs and tight, focused lows using combined boost/cut resonant shelf dip
MEQ-5 Mid-Range EQ features broad, overlapping frequency selections for fine peak and dip midrange filter control
HLF-3C EQ delivers 12 dB cut filter for tonal sculpting or special effects
Includes artist presets from Neal Cappellino (Alison Krauss, Brad Paisley), Jacknife Lee (U2, R.E.M.,Taylor Swift), David Isaac (Prince, Eric Clapton, Robin Thicke) & more
Requires UAD-2 DSP Accelerator Card or Apollo Interface, available from authorized dealers worldwide