Electrix, the creator of the popular MIDI controller the Tweaker, is proud to release its custom mapping for the Tweaker and Traktor Pro's Remix Decks. Electrix has always prided itself on being able to create custom mappings for its diverse users of DJs, Producers, and Live Performance Musicians. The quick release of a custom mapping for Traktor Pro's Remix Decks further solidifies Electrix's commitment to DJ's and musicians of all backgrounds.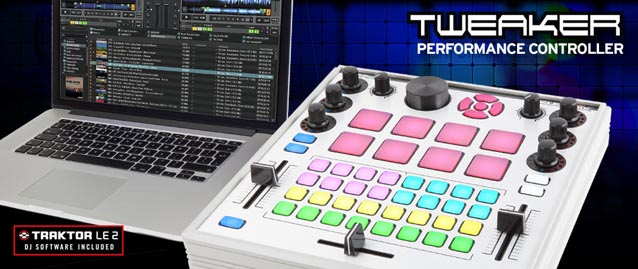 Mapping Overview
The Remix Deck mapping was designed to allow the user to directly access Remix Decks C/D. The Tweaker's layout is perfect to control the remix decks, with its 32 button grid giving direct access to the 16 sample cells on each deck. The Tweaker's grid section also provides direct access to sample settings like Punch, Monitor, FX, and Keylock functions. Additionally, the Tweaker's pads allow the user to Mute sample slots, switch Trigger Type, as well as Play Mode (e.g. Loop or One-Shot). The mapping also allows the user to switch back and forth between Mixer Mode and Deck Mode. In Mixer Mode the knobs and faders act as EQs and Channel Faders. In Deck Mode the knobs and faders are used to control the pitch, loops, sample pages, and more. This allows users to quickly switch between the mixer functions and deck functions.
Use Cases
The Remix Deck mapping can be used in a variety of use cases. Two sample use cases include:
• 1 x Tweaker (Decks A/B), 1 x Tweaker (Decks C/D)
For users who want to make full use of Traktor's Track Decks and Remix Decks, a two Tweaker setup is the perfect fit. Performers can utilize the Tweaker's native Track Deck mapping for Decks A/B and the newly released Remix Deck mapping for Decks C/D. Utilizing two Tweakers in this setup allows the user to perform entirely in Traktor's internal mixing mode and thus take full advantage of Traktor's powerful FX, looping, and sampling features.
• 1 x MIDI Controller (Decks A/B), 1 x Tweaker (Remix Decks B/C)
For users who are already comfortable using their Traktor mapped MIDI controller, but are looking for additional MIDI control over the remix decks, the Tweaker is the perfect addition to an existing digital DJ setup. Its as easy as plugging the Tweaker into an extra USB port and loading the Remix Deck mapping. This effectively allows the user to continue using Decks A/B as usual, but also expands his/her ability to remix on the fly by adding samples via the Decks C/D (Remix Decks).
Availability & Download
The Remix Deck Mapping is available now. To download the Tweaker Remix Deck mapping please visit: www.electrixpro.com/downloads.