Although credited as an Executive Producer on John Legend's new Love In The Future album, Dave Tozer actually functions as a songwriter, musician, programmer and arranger in addition to his production work. Tozer met Legend through a mutual friend in Philadelphia during the late 90s when Dave was working as a musician and developing his production skills and John (then known as John Stephens) was a gifted music student at the University of Pennsylvania.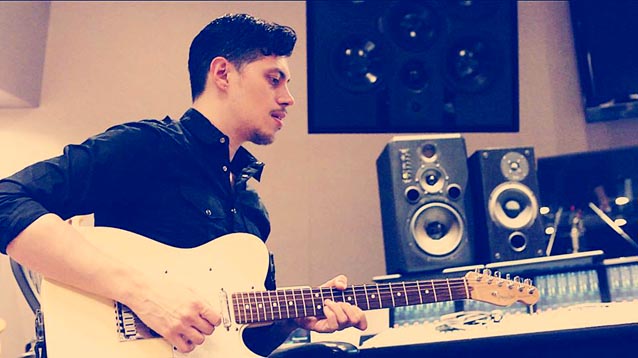 The meeting marked the beginning of a successful creative partnership that has flourished over the years, with Tozer producing Legend's first three indie albums and, in 2004, contributing to eight tracks on his Grammy award winning Get Lifted. Dave also cowrote and produced the track "Stay With You," which was nominated for Best Traditional R&B Vocal Performance.
Besides his work with Legend on his second album Once Again, Tozer has played and worked on tracks by Kanye West (the Grammy winning "Diamonds From Sierra Leone") and Jay-Z ("Do U Wanna Ride" from Kingdom Come). He's also collaborated with Heather Headley, Natasha Bedingfield, Estelle, Lizz Wright and co-produced Free Sol with Justin Timberlake, to name a few.
So it comes as no great surprise that Dave's currently wrapping up final mixes on Love In The Future in close collaboration with Legend and Kanye West, working in Germano Studios and his own project studio in New York's Union Square. Considering the high-powered talent producing the album, we were curious about how the project played out. Dave confirms that he and Kanye "oversaw production for the whole album, I'm a producer on most of the songs as well and I've co-written and arranged many of the tracks. I've known Kanye since early 2001 and John is signed to his G.O.O.D. record label, but this past year is the closest I've worked with him and it's been great. The record's sounding really good. We're all excited because Love…represents a very unique direction for John; it sounds very different."
According to Tozer there are 15 tracks on the album and the first single, "Who Do We Think We Are," co-produced and written with Kanye West and Bink!, was released on March 25th. Asked to elaborate, Dave adds: "When John and I first started discussing the album, we decided on something that was less pop sounding and darker thematically. The arrangements are more adventurous than on earlier albums––I'd liken some of it to 'Marvin Gaye meets Pink Floyd' because I was drawing a lot of inspiration from Dark Side of the Moon during the process and combined it with Gaye's soulfulness."
"Some of the arrangements are dark and moody, yet they speak like an individual work, not like individual songs. There are a number of tracks featuring full orchestras with strings and horns, harps, electric harpsichords and celestes, the kind of stuff you'd find on a 70s psychedelic album. I'm inspired by that era in terms of sound and atmosphere and what it meant musically and culturally."
In fact, Dave dug very deep to make the sound of that era an integral part of the album. "One of the cool things is that we cut a lot of it to tape using the Ampex ATR 102 here at Germano Studios," he recalls. "We'd go in using tape like an effects box and come off the repro head of the tape and then back into high quality digital conversion so we still end up in digital (everything's recorded in Logic Pro) to get the sound of the tape on the tracks. There's something I love about the classic records from the 60s and 70s and the character that the medium imparts to those recordings. It gives it a great sheen and an almost intangible quality that's very musical and desirable."
As mentioned, Tozer worked between his own project facility and Germano Studios because "Troy's place is one of New York's go-to studios and one of the best sounding rooms in the city. I love the monitoring at Germano, it's all very well done and works great. And Troy's been very kind and helpful in complementing my workflow in terms of having all of the programs and plug-ins that I use, which makes it very seamless for me.
"We cut John's vocals at Troy's," Dave adds, "and most of the instruments—guitars, drums, bass, keyboards, background vocalists, things like that. John and I will do a lot of the writing and the earlier stages of production in my room, then we'll go to Troy's when we want to take it from the 10 yard line into the end zone."
Because he and Legend have worked together for such a long time, the process is fairly well established by now. As Tozer explains, "It all starts with John and I writing songs together. I love great songs and that's the paradigm from which I create, especially with an artist like John because he's a great songwriter as well.
In fact, every time we get together we're going to come out with something really strong compositionally, and that makes it much easier to produce and arrange because you have a shared vision of how it should sound. When I'm at my best, I can hear how it's going to sound pretty much right away from beginning to end. When I don't hear it so clearly is when I end up in trouble or have to work my way through the woods."
And hearing the music is also important in the literal sense, which explains why Dave has a natural rapport with ADAM Audio monitors. He heard other producers and engineers talking about them years ago before experiencing them firsthand with the A Series. While at Germano Studios, Tozer was able to work with ADAM S3X-V and S3X-H monitors, which he "was really taken with, they really spoke to me in a very natural way."
"It's an interesting relationship with monitors," Dave continues, "because at the worst of times, they block you from what you're hearing and want to feel. The ADAM monitors have a certain clarity that really tells me exactly what I'm hearing. When I heard them I thought, 'ah, I'm home.' I respond to the monitors in a very natural way. When we used the S3X-Hs, I was surprised that Troy didn't have the subwoofer on, because of the bass response. And the tweeters are really smooth. All of it comes together in a really meaningful way that all makes sense. It's the intangible quality, which is great because listening to the ADAMs just made a lot of sense to me."
ADAM Audio is a leading manufacturer of loudspeakers in Pro Audio as well as in the HIFI market. Founded 1999 in Berlin, Germany, the company's loudspeakers have set high standards around the world when it comes to precise monitoring and natural sound reproduction. The widely varied product lineup of the owner-operated company spans from professional studio monitors (SX, AX, and F series), to Multimedia and Home Theater/Installation loudspeakers (ARTist and GTC range) to the highend home entertainment models (Classic and Tensor series). The trademark all ADAM models have in common is the proprietary X-ART tweeter. Handmade in Berlin, Germany, it performs with a nearly flat frequency response reaching up to 50 kHz. A growing number of the most famous and prestigious studios around the world own and use ADAM monitors.