Yesterday, the creators of the world's best-selling iOS DJ software, Algoriddim, release djay 2 optimized for iOS 7, adding fresh UI elements, enhanced audio features, and exclusive "Artist Packs." Unveiling a whole new interface, while still retaining the award winning design of djay, Algoriddim introduces a new music library, which has been graphically updated to reflect the new iOS 7 design language.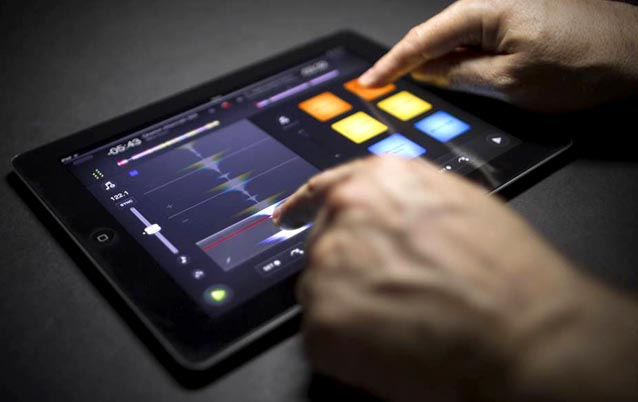 iOS 7 Optimized
This update for djay 2 also brings support for enhanced audio features in iOS 7, including Inter-App Audio, allowing djay 2 to be used from within other music apps. With this update, users will now be able to add an input track from their mixes directly into other audio apps to get even more creative.
"We are very excited about the design and audio enhancements introduced to iOS 7," said Karim Morsy, CEO of Algoriddim. "With iOS 7, djay 2 can now easily connect with other apps using Inter-App Audio, making it an open and flexible tool for musicians and DJs. The new modern design elements of iOS 7 integrate beautifully with our award winning interface making this the most polished version of djay ever."
Moreover, Algoriddim introduces "Artist Packs", a collection of 12 exclusive audio and vocal samples that can be loaded to the integrated drum pad sampler, allowing the user to trigger beats and vocal samples from their favorite artist in their live performances. As innovators and trendsetters in the music industry, prolific artist Snoop Dogg and scratch master DJ Qbert are the first artists to have exclusive sound packs included into djay 2. Fans will be able to mix in ­­­­­notable Qbert beat samples as part of his "Beat Kit", as well as classic West Coast Snoop Dogg sounds, including his infamous phrases like "Fo Shizzle."
"I'm lookin' forward to giving my fans that classic West Coast Snoop sound to mix and match in their original DJ sets. You know, some of my favorite sayings like 'Fo Shizzle Dizzle,'" said Snoop Dogg. "As an artist, I want to keep innovating and giving my fans content in ways no one has ever done before."
In addition to the "Artist Packs," djay 2 also introduces an exclusive "Skratch Tools" feature, a collection of unique Qbert sounds that users can load onto the deck to scratch. Created by scratch grand master DJ Qbert, this is the first time djay 2 users will be able to scratch over their music using hand crafted sounds that are ideal for creating an amazing scratch performance. Users can easily access these exclusive sounds by tapping and holding the library button, which will present a new pop-up interface to access DJ Qbert's "Skratch Tools," instantly loading it onto the djay turntables or HD Waveforms.
"I'm very excited to have my sounds built into djay 2's Skratch Tools," said DJ Qbert. "One of my passions is to teach the art of DJing, whether it's with djay 2 or my Skratch University online classes. The tools we've added to djay 2 are going to open the doors on what fans can do with scratching using the iPad and iPhone…and it's just the start!"
djay 2 is available on the App Store for $1.99 on iPhone and $9.99 on iPad.