Blue Cat Audio has released Blue Cat's MB-7 Mixer 2.0, a complete rewrite of their multiband processing plug-in, now including multiband VST hosting capabilities.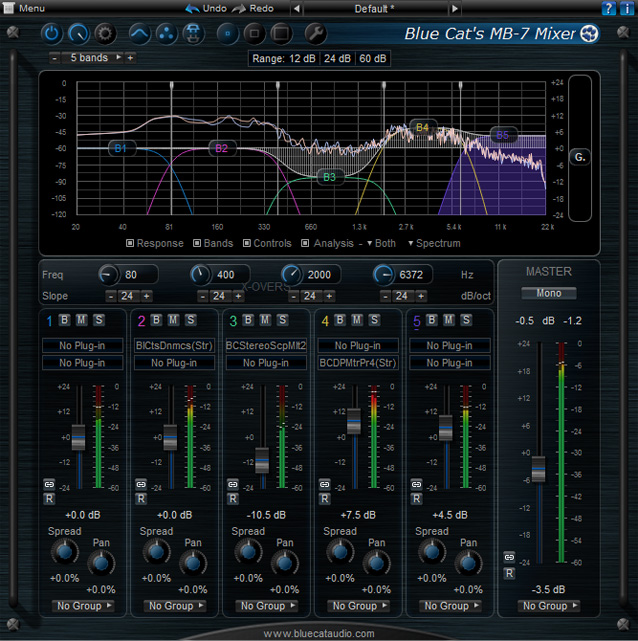 The multiband mixing console and VST host
Blue Cat's MB-7 Mixer is a unique plug-in that splits the signal into several frequency bands and lets you mix and process them as if they were separate tracks. In addition to the ability to host up to 4 VST plug-ins per band and thus transform any regular plug-in into a frequency-aware processor, Blue Cat's MB-7 Mixer has now a brand new modular user interface, with lots of new features and enhancements: a spectrogram display, a new presets manager, multiple display sizes, new MIDI and automation mapping capabilities, and more (full list here).
The plug-in is available alone or as part of three bundles: Blue Cat's Energy Pack, Blue Cat's MB Dynamix Pack or Blue Cat's All Plug-ins Pack, the complete Blue Cat Audio collection bundle.
A special introduction price is offered to new customers until September 30th: 20% off the plug-in and related bundles. Customers who recently purchased the software (in the past 2 months) will receive the upgrade for free, and others can upgrade to the new version for a small fee. Other existing Blue Cat Audio customers can purchase the plug-in with 40% discount.
Demo versions are available for download on www.bluecataudio.com, in VST, RTAS, AAX, Audio Unit and DirectX formats, for both Mac and PC (32 and 64-bit).