Serato brings Vinyl and CDJ control to Serato DJ, with their latest update version (1.5). The software inherits their world class NoiseMap™ DVS technology, refined for over 10 years in Serato Scratch Live. Coming October 2013, Serato DJ will support a number of brand new hardware devices, designed specifically for use with Serato DJ. Support for a number of existing Scratch Live devices will come to Serato DJ in February 2014.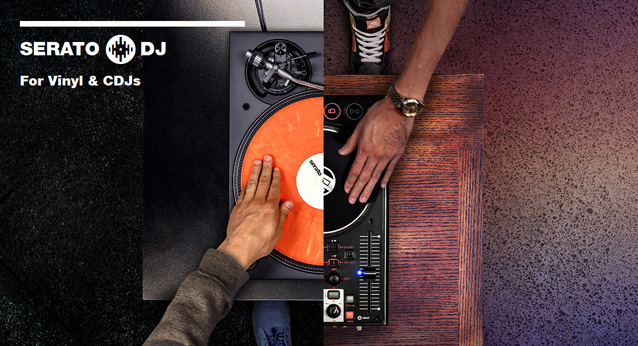 Serato DJ Update version 1.5
Combined with the long list of new features and improvements to Serato DJ over the past year, the addition of vinyl and CDJ control in Serato DJ signals the future for the platform, as our top end professional DJ software.
For existing Scratch Live users with supported devices, DVS support in Serato DJ will be a free upgrade in February 2014.
There will also be a public beta period coming later this year.
Sam Gribben, CEO of Serato, says: "Today's announcement is a very special day for Serato. It represents the final stage of years of planning and development. We've done a huge amount of work to re-engineer Serato DJ, to deliver a new platform, with a new but familiar look for existing Scratch Live users. Today is also very exciting as we announce a range of brand new hardware specifically designed for seamless plug-and-play connectivity with Serato DJ. The Pioneer DJM-900SRT and Rane Sixty-Four mixers will both have Serato DJ support built-in. DVS support in Serato DJ will give our existing Scratch Live users a great opportunity to take advantage of the many new and impressive features Serato DJ has to offer. The new Pioneer DDJ-SP1 add-on controller is natively mapped to Serato DJ and packs a powerful punch to any existing Serato DJ, DVS or controller set-up. This is just the beginning of much more to come in the future for Serato DJ".
Serato DJ with DVS – Supported Devices & Public Beta
With the release of Serato DJ 1.5.0 this October, Serato DJ will support Serato NoiseMap™ Vinyl and CDJ control (DVS) for the Rane Sixty-Four and Pioneer DJM-900SRT mixers. The natively supported Pioneer DDJ-SP1 add-on controller, and Novation Dicers will also be supported from October.
A public beta version of Serato DJ to support DVS for a number of existing Scratch Live devices will be available later this year. Devices to be supported include the Rane Sixty-One, Sixty-Two, Sixty-Eight, SL2, SL3 and SL4.
More info on Serato DJ and DVS here.