Word from iZotope is that their audio repair software RX 3 is now available. Rescue your audio from the cutting room floor! With remedies for noise, clipping, hum, buzz, crackles, and more, RX 3 is the most robust and best-sounding audio repair toolkit on the market. Used everywhere from Hollywood post production studios to leading sound editing facilities, iZotope RX™ 3 transforms troubled recordings into professional-grade material.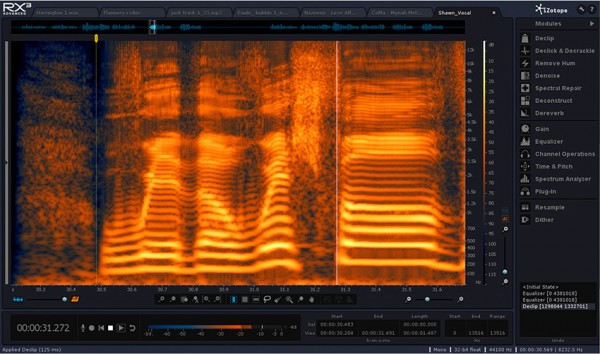 RX 3 Advanced extends the standard version of RX 3 with new, specialized features designed for audio professionals in post production, music production, and mastering. Remove unwanted reverb, sculpt and define dialogue in real time, and much more.
RX 3 – An All-In-One Solution
Turn flawed audio into pristine, usable material using Denoise, Declip, Declick & Decrackle, Spectral Repair and more.
Pinpoint problems faster than ever with the Spectrogram and Spectrum Analyzer.
Finesse your sound with audio enhancement modules like EQ, Gain and Channel Ops.
RX 3 Advanced
Extends the RX 3 standard version with new, specialised features designed for audio pros.
Remove or reduce reverb from instruments, vocals and more using the Dereverb module.
Clean dialogue in real-time with the Dialogue Denoiser.
Monitor your audio and loudness compliance using Insight.