Wow, Novation sure is on fire! This is the third product in two days they announce. Novation introduce the Launchpad Mini: the Launchpad for the iPad Generation. Launchpad Mini is a compact version of the celebrated Novation Launchpad, featuring 64 three-colour Launch pads and 16 performance buttons that enable you to produce and perform music with your iPad® – as well as your PC or Mac – by playing loops and effects.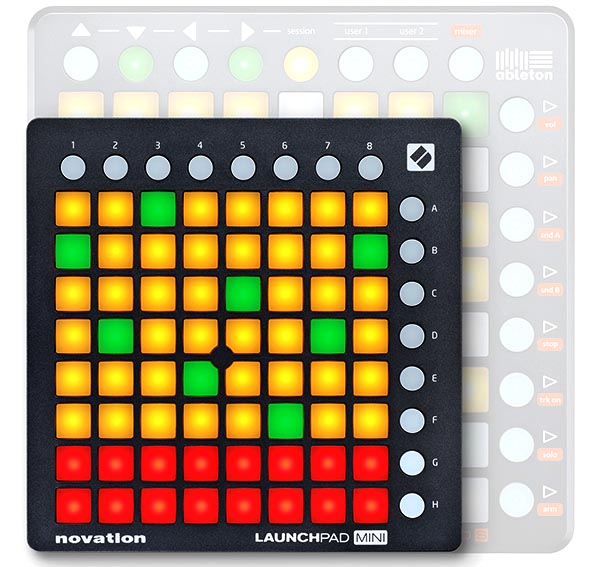 Launchpad Mini
Use Launchpad Mini with the free Launchpad iPad app to play great sounding loops and control DJ style effects, download professionally produced sound packs from within the app, and, with an update, import your own samples for even more individual performances. When you're ready, share your creations with the world.
Launchpad Mini is powered by your iPad, and connects directly to your iPad with the Apple Camera Connection Kit (not included).
Launchpad Mini At A Glance
An ultra portable Launchpad with the same powerful functionality as the Launchpad S
64 three colour Launch pads can play loops, samples, and also control effects on iPad, PC or Mac
Sixteen additional three colour performance buttons
Fully integrated with Novation's Launchpad app for iPad
Fully powered from an iPad, and connects to any iPad via the camera connection kit (not included)
Tough, compact, trustworthy design
Combine with the growing Launch family of products for even broader integration with your software and the Launchpad and Launchkey iOS apps
Full integration with Ableton Live, just like its bigger brother, Launchpad S
The same high level of integration with FL Studio 11 as Launchpad S
Additional Details
Sturdy and compact, Launchpad Mini can be transported easily without fear of damage – but it's also so light you'll hardly notice it in your gig bag. Like its bigger brother Launchpad S, Launchpad Mini is totally bus powered: there's no need to plug it in to a power socket. Simply connect it to your iPad – or computer – and it will get all the power it needs.
Launchpad Mini is part of the growing 'Launch' family of music-making gear. Partner Launchpad Mini with its bigger brother Launchpad S, grow your studio with a Launchkey or Launchkey Mini, and add high quality rotary controls with Launch Control. They all work together to give you control over the Novation iPad apps ? including the Launchpad iPad app and the Launchkey iPad app.
The Novation Launchpad iPad app has been designed to get you making music straight away, and it integrates perfectly with Launchpad Mini. It comes with pre-loaded loops and samples that you can use immediately to create unique music, and you can add to them with more professionally produced sound packs as your needs grow. Import and export sounds and utilise powerful built-in effects to perform filter sweeps, stutter and drum roll-styled effects and more.
Launchpad Mini offers full integration with Ableton Live, just like its bigger brother Launchpad S. Trigger clips and scenes, control volumes, sends and more. A copy of Ableton Live Lite is included. In addition you can get hands-on control of FL Studio 11 with Launchpad Mini's 64-pad grid – and It comes with stickers in the box so you can label the controls.
Included Software
Novation Launchkey app (for iPad)
Novation Launchpad app (for iPad)
Ableton Live Lite
Novation V-Station soft-synth
Novation Bass Station soft-synth
Loopmasters sample pack
Availability: Worldwide October 2013. Pricing information: MSRP $124.99 / $99.99 at dealers.