Reloop has announced their first DJ controller for iPad at the BPM Show in Birmingham which is especially designed for the DJAY app by Algoriddim. The Reloop Beatpad is a dedicated iOS controller, developed and optimized for this popular iOS DJ app by Algoriddim, offering a totally new and unimagined mixing experience with your iPhone, iPod or iPad.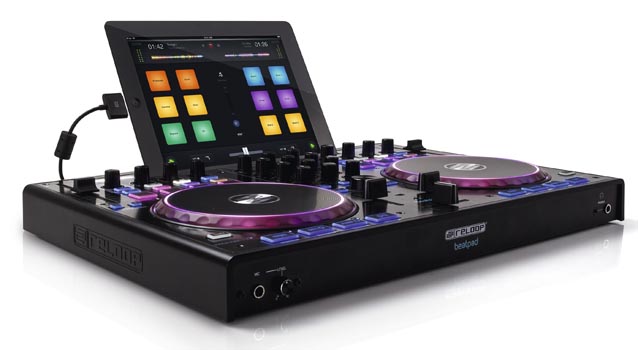 DJAY controller – Reloop Beatpad
The Beatpad utilises the app's full potential with numerous control elements, such as dedicated filters per channel, push encoders for effects and loops, as well as an extensive and multifunctional drum pad section with performance mode.
The controller is compatible with all iPhone, iPod and iPad generations. It charges your device using the included 30-pin and 8-pin Lightning Adaptors and (via USB) can also be used as a high-quality MIDI controller for your Mac or PC DJ software of choice, for example DJAY for Mac or Traktor.
The appearance of the Beatpad benefits from Reloop's many years of developing professional DJ controllers. With the recognisable high-grade aluminum Trax Encoder, you can comfortably browse through your iTunes playlists while the illuminated XXL jog wheels with their diameter of 15cm and vinyl grip surface cry out for you to perform extensive scratching sessions. The multi-colored LED jog wheel borders give the user visual feedback regarding the virtual needle position and current effect and loop modulations and the 100mm pitchfaders make manual beatmatching a walk in the park.
The Beatpad's performance section offers numerous, creative mixing possibilities: you can set up to 4 hot cue points per deck, while bounce loop mode allows you to cut the loaded track into single loop sequences on the fly. In instant FX mode the 4 drum pads offer the ability to trigger macro effects at the push of a button. In order to accomodate and trigger single samples in a playing mix, you can use the sampler which turns the performance mode section into a full blown DJ sampler. Despite these numerous creative tools, the performance mode always remains clear, also thanks to the multi-colored RGB LEDs and their various mode colors. Connections are also well thought out with two headphone connections on the front side, two master outputs (XLR, RCA) and even an aux input for iPod, CD player or turntable on the back of the device.
Reloop Beatpad: Mix beats with your iPad.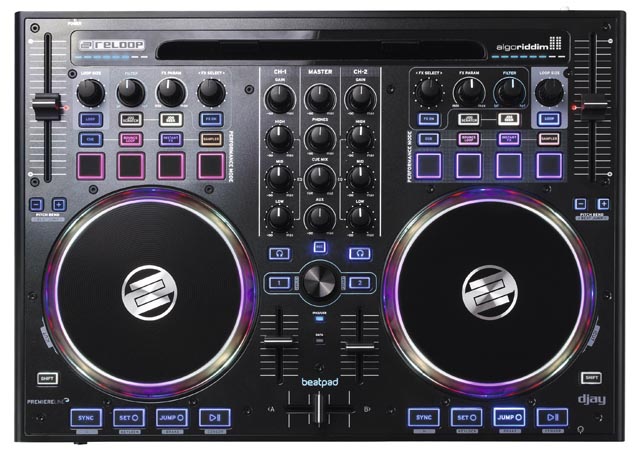 Features
– Professional DJ controller for iPad, Mac and PC
– Integrated 4 channel USB audio club interface
– Compatible with all iPhone, iPod and iPad generations
– Integrated mount for iPad
– 30 pin and 8 pin Lightning Adapter included
– Plug'n'Play: simply connect to to your iPhone/iPod or iPad and start mixing your MP3 files
– Air Play: wireless sound transmission to compatible speakers
– Developed for DJAY 2 by Algoriddim
– Also applicable as controller for PC/Mac due to USB interface
– Ultra flat XXL jog wheels (15.5 cm diameter) with vinyl grip surface
– Multicolor LED jog wheel border for visual feedback of virtual needle position and effect and loop modulations
– Performance mode section: hot cue, bounce loop, instant FX and sampler
– 4 large RGB-lit drum pads per deck
– Large transport section with soft touch rubber buttons
– Fader-start function
– Ergonomcal mixer/CD player design for fast and easy access
– 2 channel club mixer design with dedicated filters
– Large 100 mm pitch fader
– Versatile controls for effects, looping, hot cues and sampler
– Aux stereo RCA input (with phono pre-amp) for connection of a CD player, iPod or turntables with separate volume control
– 6.3 mm jack mic connection with volume control
– Club interface: thecan be connected via XLR or asymmetrical stereo RCA outputs
– 2 headphones connections: 3.5 mm & 6.3 mm stereo jack
– Shift buttons for second function layer incl. shift lock feature
– All control elements in club size and quality
– compatible with every MIDI-learn software