The Black Dog announce their new company Machinewerks and Kickstarter campaign to fund the first production of their beautifully designed & built USB/Midi Control Surface for electronic musicians & DJs, the CS X51.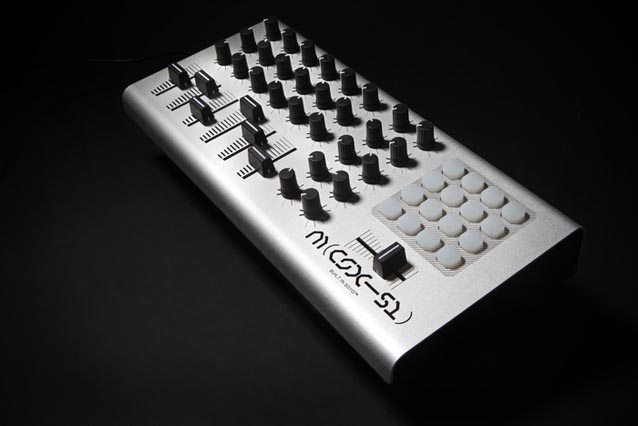 Machinewerks CS X51
The control surface was born out of the sheer frustration of not being able to find the Control Surface they wanted. Everything was either too big, too heavy or didn't have the controls needed, often they would have a lot of things that nobody wanted. It seemed that the market place is flooded with control surfaces that set out to be everything to everyone and have ended up being no use to anyone! The design of many existing Controllers also leaves them cold. Cheap lumps of plastic designed to keep the costs down, with no look or feel to them at all.
Time For A Change
They decided from the start to design something beautiful, something pure, something people would want to use and own.
With 30 years experience of playing live and in the studio The Black Dog know what's needed for a working artist/DJ; This is why they've designed the Machinewerks CS X51.
Machinewerks CS X51 Specifications
28 x Potentiometer Rotaries: All fully assignable
7 x 45mm Potentiometer Sliders: All fully assignable
16 assignable buttons in a 4×4 matrix, each with a cool blue assignable LED (LEDs can respond to clip status messages)
USB and 5 pin DIN MIDI In & Out for full bi-directional MIDI support
9v DC power connector for computerless setups
Plug & Play: USB Powered*, no drivers required
100% programmable midi mapping to any hardware or computer
MacOS, Windows & Linux Compatible
Works out of the box with Ableton, Traktor, Reason, Cubase, Logic and any other programmable DAW
Aluminium Body
Anodised Body with Powder Coated Base
Portable: 390mm x 184mm x 57mm Weighs 1.4kg
RoHS compliant
Designed & Built In Sheffield, UK
The CS X51 has a beautiful form and is made from materials that will last. There are enough features to give you the power and artistic control over your performance as well as fitting perfectly in your hand luggage.
One of our other goals for this project is not only build the Machinewerks CS X51 in Sheffield, (UK) but also source and manufacture as much as possible in the UK. This may go against the grain for electronic equipment, but we believe there is a lot of talent in the UK. We are obsessed by quality and we believe the UK offers this.
They're also working with The Designers Republic on the design of the logo and design for the faceplate, so you know it's going to be something special, a proper work of art.
Check out the Kickstarter campaign here.