Zynaptiq announces the immediate availability of UNVEIL version 1.7 and UNFILTER version 1.1, their award-winning real-time dereverberation and adaptive tonal contour linearization plug-ins. These free updates add AAX Native 64 support for Mac and Windows users, enabling the use from within Pro Tools 11, as well as several enhancements and fixes, and are available now.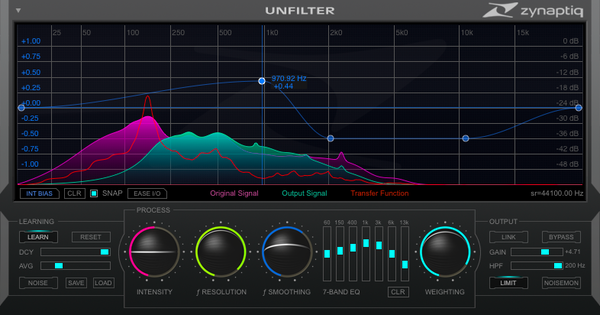 UNVEIL is a real-time, de-mixing based plug-in that allows attenuating or boosting reverb components within a mixed signal of any channel count, including mono sources. Additionally, UNVEIL allows bringing the key features of a recording into focus, or moving them to the background, by attenuating or boosting perceptionally less important signalcomponents.
UNFILTER is a real-time plug-in that removes filtering effects, such as comb filtering, resonance, or excessive equalization – effectively linearizing the frequency response of a signal automatically. UNFILTER can also apply a detected filter response to another signal, or export it to disk as an impulse response file (WAV), and can perform mastering grade adaptive, free-form, and graphic equalization.
What's new in UNVEIL v1.7 and UNFILTER 1.1
• Now also supports 64bit operation as AAX Native in Pro Tools 11 on Mac and Windows systems.
• For the AAX 32-bit plug-in, the minimum required Pro Tools version is now 10.3.5.
• Enhanced compatibility to Mac OS Sandboxing and Windows UAC.
• Improved batch processing behavior for UNFILTER.
• Improved compatibility with various host applications.