Steinberg is happy to announce the release of the latest VST Sound Instrument Set, Allen Morgan Signature Drums Volume 2. Delivering new sounds for Groove Agent ONE, the drum machine available in previous versions of Cubase, the Nuendo Expansion Kit and Sequel 3, this content set features over 700 pre-processed hybrid sounds and 150 MIDI loops.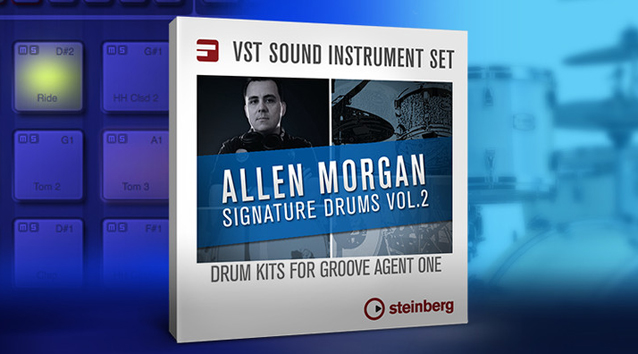 Features at a glance
• Over 700 pre-processed samples of acoustic drums and synths
• 30 conveniently laid-out hybrid drum kits
• 150 MIDI loops with beats and grooves
• Exclusively available as download
• Windows and Mac installer included
"With this latest edition of drum kits for Groove Agent ONE I set out to design sonic tools that will allow you to create a truly unique listening experience. Drums and sounds vary from dark and ambient soundscapes to 'in your face' ripped up electronic sounds — and plenty of surprises in between. These sounds and accompanying loops will fit perfectly in any production looking to stand out, grab the listener by the ears and make a statement," says US-based producer and mixing engineer Allen Morgan.
Allen Morgan Signature Drum Set Volume 2
This Sound Instrument Set comprises more than 700 pre-processed samples that range from hard-hitting acoustic and electronic drum sounds to intense synthesizer frenzy. All laid out in 30 drum kits, the first 15 hold hybrid sets of acoustic and electronic drum sounds while kits 16 through 30 consist of further drums and synthesizer sounds. Additionally, each kit also includes five MIDI loops amounting all told to 150 loops for uplifting rhythmic textures.
Availability and pricing
Allen Morgan Signature Drum Set Volume 2 is available as download through the Steinberg Online Shop for 29.99 euros including German VAT.