Based in Los Angeles, Critical Mass Productions is a collective of award winning professionals at the forefront of sound design and music production for film, video games, records and commercials. One of the founders is Tobias Enhus – a scientist of sound and master of sonic terror.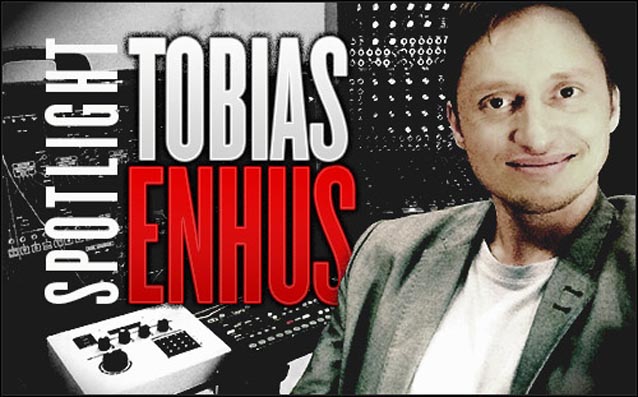 — How did you end up in Hollywood working in the film music industry?
Equipped with tons of dedication and great passion for the craft, I basically slipped my way through a series of banana peels that led me to where I am today. It all started right after post high school, with me getting ready to shoot myself from sheer boredom. I just couldn't deal with the prospect of working as a construction engineer in Sweden. Respect! That's what my dad did his whole life, but I was just not quite cut out for it! Instead I made a 180 degree life change and jumped head first into film music. I got accepted to Berklee College of Music in Boston. After graduation in 2000 (Music Production and Engineering and Music Synthesis), I got hired assisting Jeff Rona – a composer over at Hans Zimmer's studio in Santa Monica, LA. One thing led to another and soon enough I got involved in tweaking sounds on the score of the movie "Traffic". Then, after a few years working at the studios of "Machine Head" in Venice, I started my own company called Critical Mass Productions, which is my current place of work. I'm a synthesist at heart and an omnivore of music and sound. I do music for movies, TV, games, commercials and on occasion creative sound design (e.g. the "Dolby Digital Cinema sound logo").
— When do you know you have found a sound, effect, or a texture that really matches what happens on the screen?
First you need an instrument, a source that resonates with the universe the project lives within. I always choose sounds and instrumentation very carefully with the intent of creating a subliminal sonic association with the project. Like the music for "Almost Human" (JJ Abrams) for instance; a world set in the future with androids, flying cars and sci-fi gadgets, and yet it has a very dark retro chic Bladerunner type of feel to it. The Analog Four together with the ARP2600 quickly became signature instruments for the show, simply because they feel very true to the distorted "retro" future world its in. The future is analog! Once you have the instrument in place, then it's about sculpting the scene. I always look at the actors' eyes. You can see in their eyes when the timing and feel of music is right for the scene.
— Are there any certain kind of sounds you find the Analog Four especially suited for?
Anytime there's a dead body or an ill tempered android up to no good, then it's all about the Analog Four! Gnarly beds of mysterious arpeggio lines, evolving in long uneven pattern loops. I tend to set one or two tracks to an odd number of bars to create a minimum of repeated patterns – 15 over 16 bars type stuff – and often with an external input of slow random LFO sounds from the ARP2600, SID Station or the MOTM modular. Tempo map the scene, choose the BPM, choose the key signature and BOOM – tweak away!
— What are the most important things to consider when creating sounds for films or television?
The simplest solution executed with the highest quality of ingredients usually gives the most elegant result – just like 5 star Sushi 🙂
Check out Tobias' work: Critical Mass Productions
Almost Human trailer (FOX TV)