Flux this week announced the release of the AAX Native and 64-bit compatible version of IRCAM HEar – Binaural encoder and IRCAM Verb Session – Algorithmic session reverberation processor, built on our new Version 3 (v3) framework.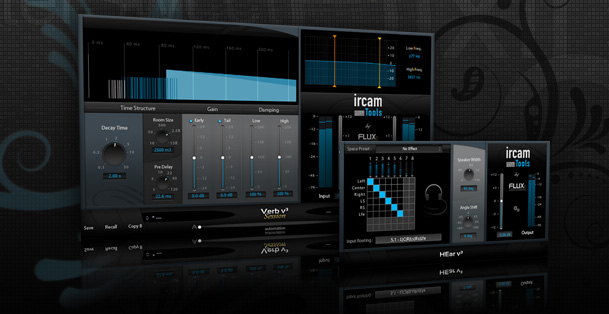 Flux:: v3 framework
The v3 framework improves the performance dramatically and for the graphic rendering it includes our GPU-efficient 2D/3D graphic engine, first introduced in the Pure Analyzer System, based on the OpenGL standard optimizing the audio-to-visual experience utilizing the GPU on the computer's built in graphics card.

With the Flux:: v3 framework support for OSC (Open Sound Control) is introduced in order to allow for remote control of the plug-in parameters using OSC enabled devices and software applications such as TouchOSC for iPhone / iPod Touch / iPad.

As all of the v3 versions are 64-bit compatible, the AAX v3 is fully compatible with AVID Pro Tools 11.
Availability
IRCAM HEar and IRCAM Verb Session v3 are available on Mac OS X in AU/VST/AAX Native and on Windows in VST/AAX Native. The update is Free of charge if you already own a previous version of the software (or a bundle containing it), and can be downloaded when logged in to the customer download area on the Flux website.