Focusrite's brand new Red 1 500 series 'lunchbox' format mic preamp is now shipping. Featuring the same circuitry topology and components as Focusrite's original Red Range of transformer-based mic preamps, the Red 1 500 offers the same legendary sound performance in a new, popular format – ideal for mobile/location recording or saving space in the studio.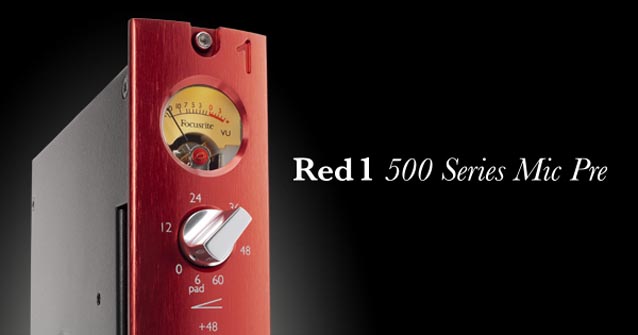 The Focusrite Legacy – in a new format
Featuring the same circuit topology and components as the original transformer-based mic pre designs, Red 1 500 Series Mic Pre offers the same performance as the original Focusrite Red microphone preamplifier in a new, popular format: the 500 Series, or "Lunchbox" portable modular system. It's ideal for mobile/location use as well as in the studio.
If you remember the unique, stunning sound of the original Focusrite Red range – or even if you don't! – and want to bring that signature sound into your studio, then Red 1 500, with its signature red anodised aluminium front panel, is for you. As with the original Red range, this new module will also be 'made in England'.
Red 1 500 offers a compact interface to digital recording systems or for location recordings as well as convenient access in any control room, with a Lundahl LL1538 input transformer, just as in the original; switchable phantom power; polarity invert; and an illuminated classic porthole VU meter. The output stage of Red 1 500, with its custom Carnhill transformer, will easily drive long cable runs without loss of quality – ideal for remote recordings. Mic gain is switched (with a Grayhill gold-plated military-grade switch) in 6dB steps from -6 to +60dB, for accurate, precise channel matching and recall.
The unique Focusrite mic amp topology provides superb common mode rejection, excellent overload margin and, with its shared gain structure, (14dB from the transformer and up to 46dB from the amplifier) a very low noise floor, combined with the traditional wide bandwidth of the original Red series (10Hz to 140kHz). This exceptional level of performance is maintained over a wide range of impedances applied to the input, making the Red 1 500 suitable for almost any microphone – ribbon, dynamic or condenser.
Red 1 500 Series Mic Pre – Focusrite's signature sound in an exciting, popular new form factor.