It will be their new top of the line synthesizer, the LinPlug Spectral. 14 years of synthesizer building experience. If you are familiar with subtractive synthesis, you will feel right at home with the Spectral, because you can choose an oscillator waveform, choose a filter shape and go on from there.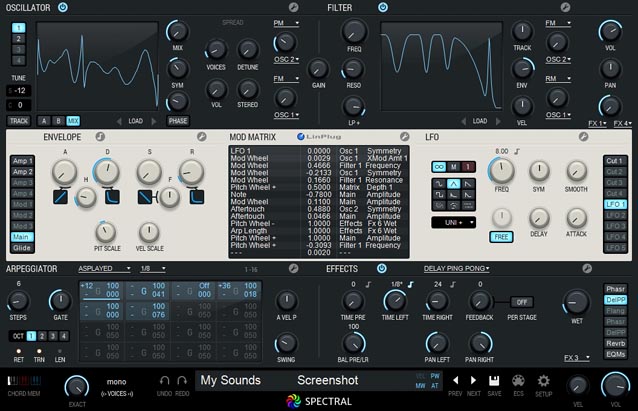 LinPlug Spectral
But Spectral delivers far more options than you would expect from the well sorted user interface. Both Oscillator Waveform and Filter Shape can be edited in depth. The unique audio engine is capable of delivering many sounds never heard before.
To participate in the public beta test, download the beta from the LinPlug website.
Specifications
4 Oscillator and Filter modules with powerful yet detailed harmonics and filter band editing and modification functions
Extensive Oscillator and Filter audio rate cross-modulations.
Each Oscillator and Filter with own dedicated envelope to control its volume or frequency respectively
Additional 3 freely assignable Modulation Envelope.
5 LFOs with various waveforms, up to 320 Hz, tempo-sync, poly-, mono- and one-shot-mode, unipolar and bipolar options, integrated delay-attack-envelope, phase, symmetry and smoothing adjustable
15 slot Modulation Matrix with 35 sources and more than 100 destinations including all important parameters
Fully recognizes Velocity, Aftertouch, Pitch Bend , Modulation-Wheel and various other MIDI controllers
A sophisticated effects section containing 15 Effects including various Delays, Chorus, Phaser, Filter, Reverb, Flanger, Gator, Stereo Enhancer, Parametric EQ and Crusher.
Glide / Portamento featuring mono/polyphonic operation, constant Time / Rate operation, Auto-Bend Modes and detailled options on where Glide takes place
16-voice polyphony (CPU and sound program dependent) and adjustable voice limit
Supports AU and VST hosts on Mac OS X and Windows PC.
Scaleable user interface (PC) and Retina-support (Mac)