The guys behind the Mixed In Key harmonic analysis software for DJ, have been quiet for about a year now. But with good reason as they have been working hard on a new software…. A DJ mixing software! And to be honest that is a bold move with several very strong players in this market already like Native Instruments Traktor and Serato. Fully aware of that, MIK have developed a software that does give new features that will give new creative possibilities for a DJ.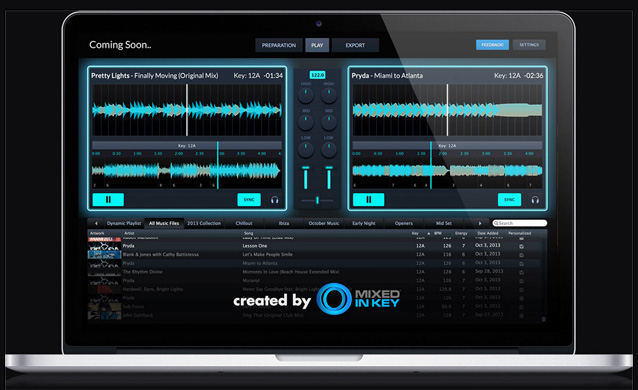 Insert Name Here…
At this moment the new software hasn't been named yet. So if you know of a good name, let them know! One new feature that stands out immediately is that the decks allow you to beatmatch and crossfade inside the same track. When you have two decks with this much freedom, it's incredibly fun to remix live.
This software has the upcoming "Mixed In Key 6.0" software already built in. You will know the Key and the Energy Level of every song you play. Enjoy flawless mixing every time.
Huge EQ knobs that glow when you turn them. Large fonts for text that matters. You can look at this software from far away. Spend less time looking at your laptop, and more time enjoying your audience. MIK wanted to simplify the workflow, so they split the new software into three different screens, "Preparation", "Play" and "Export".
The software works on any laptop without extra hardware, but if you have a MIDI controller or a great sound card, just plug it in and it'll work automatically.
As said, the software has no name yet and will go into the beta testing stage soon.