Harmony Systems announced the worldwide availability of Delora gbRemote 2.0, an application for the iPhone or iPod touch that functions as a remote controller for the Apple GarageBand music application for the Mac. This major version upgrade brings iOS7 styling and support, as well as significant feature additions. gbRemote is a complementary product to the Delora gbTouch for GarageBand app for the iPad, which now also supports iOS7.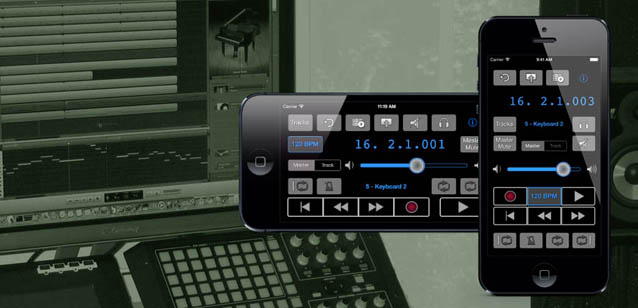 Features & Benefits
gbRemote continues to offer transport functions, master volume control and track name viewing, addition, selection, mute and solo enabling, all away from the confines of computer and mouse. gbRemote 2.0 adds a real time bar-beat display, tempo display and a jog strip to move around your song. Set start and end cycle points, change track volume, and change the tempo setting. Individual track mute and solo controls are now located on the main screen for direct access.
gbRemote automatically adjusts its layout for best viewing and functionality in both landscape and portrait orientations. Layouts adapt optimally for 3.5 and 4 inch display devices. Two coloring styles – black and silver – are switchable at any time using the iOS Settings app, to allow synergy with iPhone colors.
While iOS7 support has been added, gbRemote can be used on all iPhone and iPod touch devices running iOS 5.1 or higher.
gbRemote makes music creation more productive and allows control of GarageBand from anywhere in the studio within Wi-Fi coverage. This flexibility is particularly valuable in recording situations.
gbLink Makes it Happen
gbRemote requires the installation of gbLink 3.1.2, a small OSX application, on a Mac. gbLink provides the ability for gbRemote to communicate with GarageBand using a Wi-Fi network.
Pricing & Availability
gbRemote is available at special launch week pricing of $3.99 on the App Store, and is a free upgrade for existing owners. gbLink, required for gbRemote operation, is free and available for download on the gbRemote product page at the Delora website, www.delora.com.