Mixvibes is introducing an interesting new function with version 2.6 of their Cross DJ software for mac and pc. You now can sync rekordbox™ within Cross DJ. As you know, CDJ-2000NXS are the club standard. All it takes is a USB stick and you're ready to rock any venue. However, at home, some people use DJ software with CDJs, controllers or DVS. To retrieve their hot cues, loops and playlists in the club's CDJ-2000NXS, they have to prepare their music in rekordbox™. With rekordbox sync, what is already prepared in Cross DJ is automatically reflected in rekordbox™.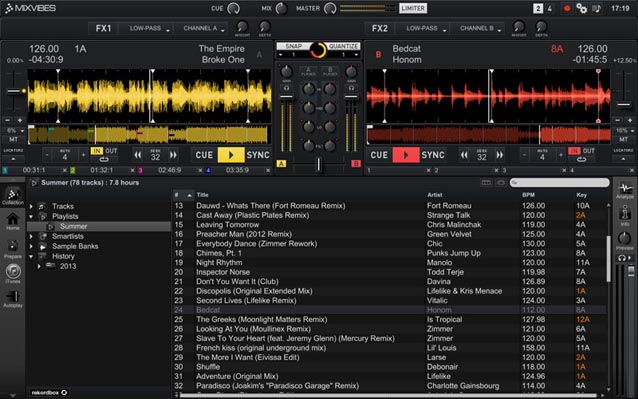 Cross DJ becomes the perfect software for CDJ-2000NXS users
It's now possible to use your Cross DJ collection inside rekordbox™. Get the best of both worlds. As Mixvibes develops Pioneer's rekordbox™, Cross DJ is the only software to offer this compatibility.

Easy sync between Cross DJ and rekordbox
In rekordbox™, the Cross DJ collection is displayed in the bridge panel. Automatically syncs:
Playlists, smartlists, folders, track metadata.
Hot cues, memory points, loops (Each hot cue in Cross DJ is saved as a memory point in rekordbox™. Additionally, hot cues 1, 2, 3 are saved as hot cues A, B, C).
Additionally, Cross DJ makes the preparation process easier: test mix tracks on two decks, or set hot cues in seconds using Smart Seek.
Time to switch to Cross DJ
Cross DJ let you import your current DJ software library (including hot cues) making the switch effortless. Cross DJ offers the full pro DJ software package: 4 decks, video mixing, effects, samplers, slip mode, quantize, etc. And it can be controlled anyway you want:
– MIDI: mapping for over 80+ controllers
– DVS: compatible with any sound card (Cross only)
– HID: works with CDJ-2000NXS, 2000, 900, 850, 400 and 350 (Cross only)
To end with, Cross DJ works just like CDJ-2000NXS. So you don't have to learn anything new.