When touring the world, any great band uses the time in between concert performances for doing work on the next album, release. Whether they're making demos to share ideas with bandmates, or working with talented friends to help them further their careers, they still need the facility to make recordings quickly and at high quality — because we all know the first take is often the best.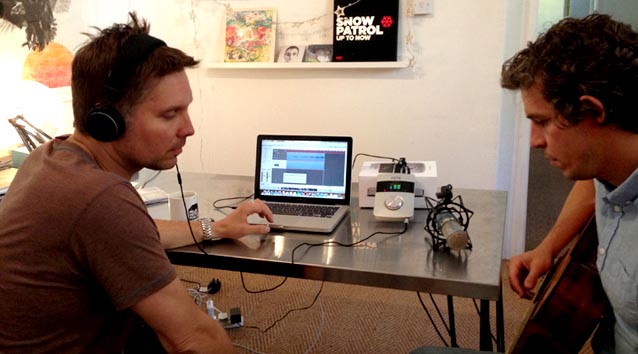 Snow Patrol and the Focusrite Forte
Snow Patrol are no exception and the Focusrite Forte has proved to be the perfect partner for Jonny Quinn of the band, who has been using the USB 2.0 interface for recording acoustic demos of potential new Snow Patrol material and recording ideas with Gary Nock, a new artist on the band's Polar Patrol publishing label.
Jonny loves his Forte, "It sounds great! Crisp and clear and perfectly formed, I'm very happy with the sound."
Ever since he came across the Liquid Channel microphone preamp, he's been a fan of the Focusrite sound. "Focusrite preamps always help you capture every ounce of the sound you're making. Whether it's recording vocals and acoustic guitar with Gary Nock or on a full studio session, you know you're going to get great results with Focusrite."
Focusrite Forte
This is a two-input, four-output USB 2.0 audio interface with two Focusrite mic preamps, each of which has an astonishing 75dB gain range (0-75dB). Top-panel touch-sensitive icons let you control the functions of the interface, from input selection and phantom power operation to the volume of the headphones. You can even control your DAW using the large control knob.
It's not just the Forte's sound that Jonny's impressed with. "I chose it for various reasons, the in built preamps mainly, the compatibility with both Mac and PC and also because it looks cool! I read some really positive reviews online which have only been confirmed by using it myself."