Pretty soon after AKG released the K712 Pro they introduced to us the K612 Pro headphones. We had already a (very) short encounter with them at the MusikMesse, so having them for a longer period was nice. Personally I was curious how they would perform because one of my first headphones were the good old trusty K240's … many years ago.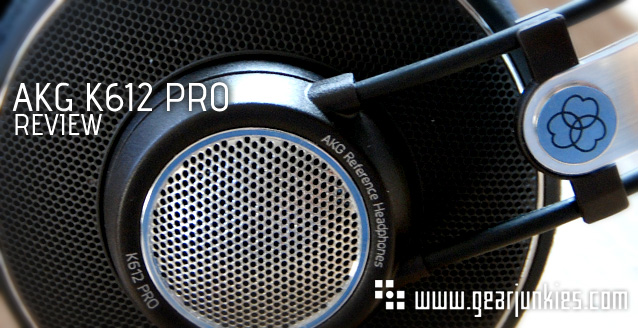 First Impression
As with many manufacturers the headphones come in a trendy, big, classy box. After taking them out my initial impression was that they felt a bit light. Not just in weight but more like in construction and overall feel. Furthermore they look pretty much simple. Simple in a sense of 'lean and mean', which I prefer in all my 'tools'. The most in your face first impression are the cups, because they are big. Definitely and without a doubt, these are over-ear headphones!
First thing you do when you take them out of box is putting them on, right? So I did. And from that very first time I knew I would love these. As I wear glasses and having considerable size ears, I sometimes encounter problems with the headphones I use, but the K612 felt really nice. Very soft, due to the nice material inside the cups, and the light-weight construction, the headphones felt lovely. But would they in the long run?
Sound
Whenever I try out a headphone for Gearjunkies I use them in a variety of ways. Directly from my Steinberg CI2+ interface using Cubase, with Traktor Pro, or stored MP3s on my pc and even on my Android smartphone. To be fair, you won't fault the AKG K612 Pro soundwise. Clear on the high frequencies and not shy in the low end, which was nice when using them with Traktor. However, it must be said they aren't DJ headphones. I always try any headphone also on this front because I wan't to know if and what they are missing here. For the use they are intended for, monitoring, they perform good. With the history of AKG as a brand I didn't expect anything less here. Using them in a Cubase project I liked how they performed. The K612 Pro gave a clear spectral sound image.
Verdict
The K612 Pro are nice headphones and a strong 'contender' in its price range (<200 Euro). For me personally the best feature are the fit and comfort. They were fantastic. Especially on long listening sessions, during work at the office, I sometimes didn't realise I had them on. Like I said above soundwise there's no chance to fault them. On the high and low end I couldn't find anything to criticize them on. Maybe in the mid frequencies there was a bit of lack, and to be honest that is a bit of 'nit-picking'. One thing that is more relevant to critique is the fact that the audio cable is fixed. So you can't replace them yourself if troubles would occur.
Headphones are as personal as … shoes. So my personal opinion can differ from yours. If you are in for a new pair of headphones I can say: do try them out. Put them on and take a good listen and maybe they will convince you like they did me!
Eric Thoolen

Use code GEAR20 on any course for a 20% discount…