Serato DJ 1.5.2 – The latest update for Serato DJ includes brand new FX powered by iZotope for Serato's new FX Expansion Packs. Scrollable FX drop-down menus, support for the Vestax VCI-100 MKII, Numark MixDeck Quad and the brand new Pioneer DDJ-SB Serato DJ Intro controllers and a healthy dose of maintenance / bug fixes for continued stability and performance.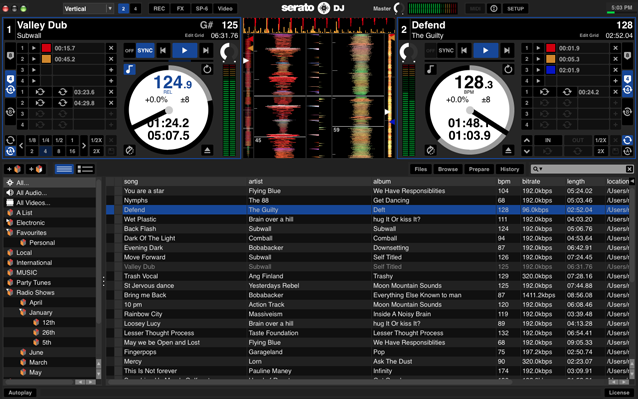 Sam Gribben, CEO of Serato, says: "We're very pleased to announce our latest update of Serato DJ with the release of version 1.5.2. This includes the 'Chip Pack', the third iZotope FX Expansion Pack release, along with upgrade support for another two Serato DJ Intro controllers and support for the brand new Serato DJ Intro controller from Pioneer, the DDJ-SB. This release brings us one step closer to 1.6 with comprehensive DVS support in Serato DJ. Next year promises to be a very exciting one with everything we have planned."
Key new features of Serato DJ 1.5.2
SERATO DJ FX EXPANSION PACK – CHIP PACK
• Chip Pack, a new FX Expansion Pack powered by iZotope is available to purchase for USD19.
• Expansion Packs can be purchased / activated in-app within the Serato DJ 'Online' window, or from the Serato Online Store.
• Each new FX Expansion Pack comes with several base FX for use in Single FX Mode, plus, a large number of base FX variations for use in Multi FX Mode.
• For the full list of FX available in the Chip Pack, and to watch Tom from the Serato Development Team demo the new FX, please visit serato.com/dj/expansion-packs/fx
SCROLLABLE FX DROP-DOWN MENU
• New to Serato DJ 1.5.2 is Scrollable FX drop-down Menus in both single and multi FX mode.
• We have optimized the FX drop-down menus. Shortening them and adding scroll allows for a larger FX list and stops the list obscuring the library.
SUPPORT FOR VESTAX VCI-100 MKII, NUMARK MIXDECK QUAD & PIONEER DDJ-SB
• Serato DJ 1.5.2 now supports the Vestax VCI-100 MKII, Numark MixDeck Quad and Pioneer DDJ-SB Serato DJ Intro controllers as a paid upgrade.
• Users of these controllers have the option to buy a Serato DJ upgrade from serato.com or activate a Free 14 Day Trial to take advantage of all the advanced features Serato DJ has to offer. It's easy to activate within the software, just download Serato DJ 1.5.2 and follow the in-app instructions.
Serato DJ 1.5.2 can be downloaded direct from serato.com/dj/downloads.