This brand new course from Producertech teaches how to play killer beats for a number of dance music styles, including drum and bass, dubstep, hip hop, house and breakbeat. Led by Paul Kodish, a professional drummer with more than 25 years of experience playing for headline bands like Pendulum, DJ Fresh and Apollo 440, the lessons go from starting out with the kit, right through to advanced techniques and jamming. In addition to the streamed lesson movies, the course comes with a series of downloadable packs, with readymade sessions for music software, drum loops and backing tracks in a variety of formats and a load of additional Loopmasters samples for playing along too as well.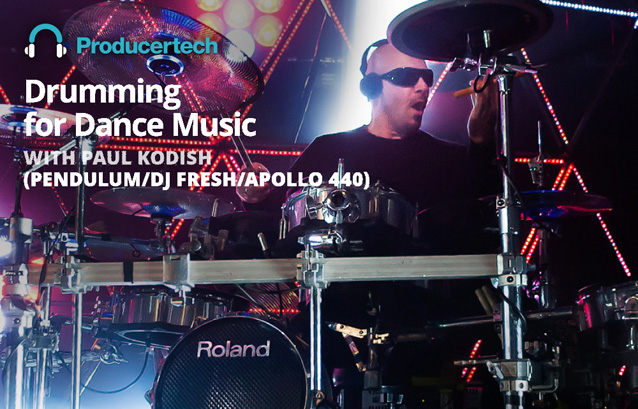 Course Parts
The first part of the course begins with the very basics and then moves onto some exercises for helping with different rhythms and timing, whilst showing examples of how to use various patterns in beats and fills. Then comes the meat of the course, which is a series of lessons dedicated to four of the main styles of dance music, with each one teaching a different drum beat, often complete with several variations, played along to a unique backing sample of Paul's choosing. The lessons have been reconstructed in Ableton Live, Logic Pro and Reason formats, so students with those apps can open them up to replay the beats on audio or MIDI tracks, which helps with the learning process. Additionally, the samples are provided as looped audio files too, so those with no music software have something to play along to as well.
As with their other courses, Producertech are going the extra mile to ensure students are well supported, so Paul is available on the forum to help people out or answer questions regarding anything course related. With the substantial accompanying materials, Paul's professional tuition and the ability to access the lessons 24/7 from wherever you are in the world, all for an attractive price, this new course is the ideal purchase for anyone wanting to learn how to play slamming dance music drums!
Course Features
Online Dance Music Drumming Course by Paul Kodish (Pendulum/DJ Fresh/Apollo 440)

43 lessons go from starting out with the kit right through to advanced techniques

Accompanying Live, Logic and Reason Projects preloaded with the beats and samples from the course

All material also provided as looped audio files for people without music software

Packed with professional advice and tips and tricks

Check out the 2 sample modules directly on the course page before signing up
Sample Module 1 – Advanced Exercises | Sample Module 2 – Drum and Bass Beat 2