"It all started with one machine". One sentence you must have heart many times. For any 'real' gearhead the collection of gear is something that's almost unevitable, because we all just love … gear. Joe Mansfield is no exception. His 'addiction' is drummachines. His own private collection contains of 75 machines already. He loves them so much he wrote a book about it: "Beat Box: A Drum Machine Obsession".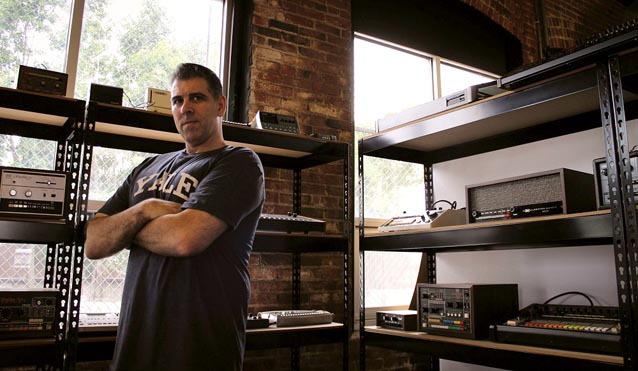 A drummachine obsession
It all started with one machine. The location was Boston, Mass. The year was 1986. The "beat box" in question was the TR-808. Almost three decades later, Mansfield's obsession with drum machines has finally spilled out of his home and climate-controlled storage space into the world at large. With Beat Box: A Drum Machine Obsession (Get On Down Publishing), the Boston-based hip-hop producer and music industry veteran shares his deep love and respect for "Beat Boxes" on every page.
The book itself features gorgeous photos of 75 drum machines by Gary Land; background and facts about each machine gathered by Mansfield; archival advertisements; and interviews with master drum machine programmers and innovators including Davy DMX, Schoolly-D, Marshall Jefferson and Roger Linn. The range of drum machines covered spans several decades, from the 1950s to the late 1980s.
Mansfield's collecting has never been about machines-as-trophies, hoarding or fetishism: he can play and/or program each machine he details in the book. His electronic children aren't kept in plastic, never to be touched or used. That's what gives the book its heart – Mansfield's emotional attachment to these objects that many people still see as robotic replacements for human percussion. But, as any good drum machine manipulator knows, even machines can have soul. And lest readers forget, Mansfield reminds us that drum machines have been used in the rock and pop world since the 1970s: Sly & The Family Stone, Kraftwerk, the Yellow Magic Orchestra and Blondie all benefitted from beat boxes on their hits, as did artists ranging from New Order and Madonna to Prince and Bruce Hornsby in the '80s.
All of these aspects encompassing the wide-ranging and complex history of drum machines are documented and discussed in words and images in Beat Box, helmed and overseen by Joe Mansfield's expertise. It is part encyclopedia, part coffee-table photo book, and will enthrall music, technology and photography fans around the world.
In the video below you can see some of these awesome drummachines from Joe's collection and a little TR-909 demonstration. At WIRED there are some of the pictures from the book published.