With the UVX-10P UVI introduces a vintage soft-synth inspired by three analog super-synths – the Roland JX-10, MKS-70 and JX-8P. A perfect complement to UVX-3P, UVX-10P delivers a huge analog sound at an outstanding price. Add a piece of vintage synth history to your collection today!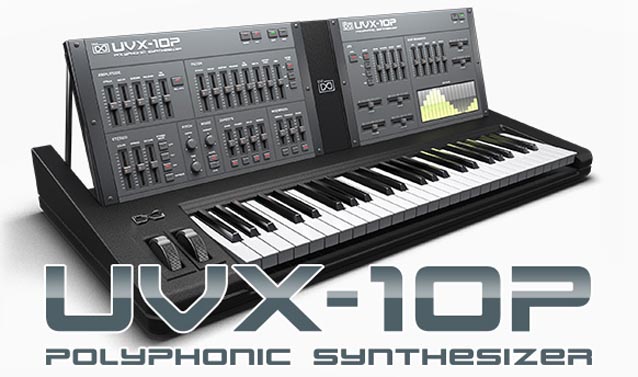 UVX-10P
This soft-synth recalls the last true analog synthesizers from the famed masterminds behind the Juno and Jupiter series, including the Super JX – a 12-voice, 24-oscillator analog monster capable of lush tones and crushing analog bass. A pristine JX-10, MKS-70, and JX-8P were tirelessly programmed and sampled in high-resolution through a world-class signal chain, capturing every nuance and detail. Every sound was recorded twice, with and without the built-in chorus, resulting in a comprehensive sonic backbone of nearly 9gb of samples. The result is a rich and versatile analog-inspired instrument, faithful to the sound of classic hardware but with a modern studio bite.
UVX-10P delivers a fully-featured hardware inspired interface, complete with ADSR amp, analog-modeled multimode filter, LFO, step modulator, multiple effects, and easy mod-wheel mapping of useful parameters. Tweak and perform over 170 factory patches in realtime or craft your own with a range of raw wave samples.
History
In 1985 the world was introduced to the JX-10, a 12-voice, 24-oscillator analog synthesizer par excellence and the last true analog synth of its lineage. Following in the footsteps of the JX-8P and JX-3P, the Super JX was fashioned with a sparse aesthetic. A lack of knobs made the system a bit of a chore to program but an external controller (the PG800) could be attached, cheerfully reuniting synthesists with the immediacy and rapid programming speed of the ever-popular Jupiter and Juno lines. The JX-10 is known for an immense and capable analog sound, even some digital textures; it's simply a magnificent synth. Programming capabilities were equally rich with independent control of 2 DCOs per voice, 2 EGs, 2 VCFs, onboard chorus and even a sequencer (albeit a limited one).