Positive Grid, the creator of BIAS and JamUp Pro XT, announces the introduction of its JamUp Plug HD, a fantastic sounding, professional studio quality guitar and bass interface for use with recording and performance apps on the iPad, iPhone and iPod Touch.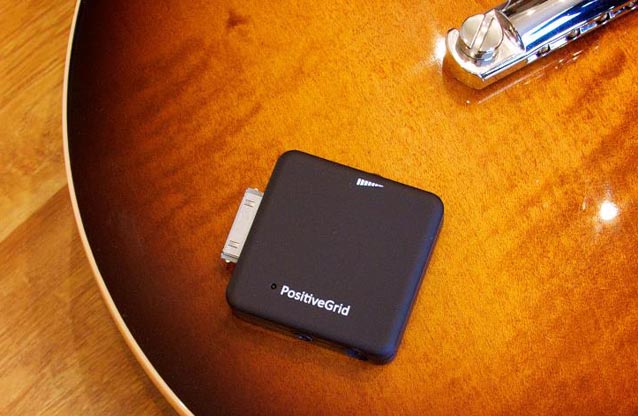 "Mobile guitar players are becoming more and more sophisticated every day," notes Positive Grid Product Manager Calvin Abel. "What started out as amp/effects emulator apps—mainly used to practice at home—have now evolved into a whole new generation of professional tools for working musicians on the go. For guitarists that are particular about their sound, tone and expression, our new JamUp Plug HD ensures that signals are converted with the utmost depth and dynamics as well as least noise."
Ultra-compact iOS input device for guitar and bass players
Perfect for rehearsing, performing and recording alike, the ultra-compact, pocket-sized device improves on Positive Grid's preexisting JamUp Plug by offering a pristine 24-bit/48kHz USB digital audio solution. The improved resolution significantly enhances signal-to-noise ratio (98 dB RMS), completely eliminating any feedback issues and bringing the manufacturer's JamUp and BIAS apps to their full potential.
Equipped with a 1/4-inch input jack and 1/8-inch output connector for headphones or powered speakers, the JamUp Plug HD also features an input level control and three-color LED for quick visual monitoring. A green LED indicates that the JamUp Plug HD is connected, ready and working with the software; orange means that the signal level has been optimized for the instrument; and red warns that the input level is too high.
JamUp and JamUp Pro XT users will discover rich, crystal clear tone when plugged into the JamUp Plug HD. But they're not alone. The flexible interface was also designed for maximum compatibility with numerous other mobile processing and recording apps, including GarageBand, AmpliTube, AmpKit, Auria, Cubasis, Audiobus, Loopy and more.
With its highly responsive circuitry, Positive Grid's new interface allows musicians to "crank it up" and be ready to rock on literally any current iOS device. Docking directly with the iPhone 4/4s, iPod Touch 4, and iPad 2/3 via its 30-pin connector, the JamUp Plug HD also supports newer iOS devices via Apple's 30-pin to Lightning adapter.
Technical specs
• 1/4-inch stereo phone jack
• 1/8-inch headphone jack
• 30-pin dock iOS device connection
• Works for Lightning interface via 30-pin to Lightning adaptor (not included)
• Maximum Input Level: up to 5 Vrms
• 500kΩ (mono), 1MΩ (stereo) input impedance
• 0.6Ω output impedance
• SNR: 98 dB RMS
• Distortion (THD): 0.005%
• Frequency Response: 20Hz-20kHz, +/- 0.2 dB
• Conversion: 24-bit A/D
• Sampling Rate: 44.1 and 48 kHz

Immediately available, Positive Grid's new JamUp Plug HD retails for $79.99. For more details, visit www.postivegrid.com