Sound2Serve is a web application designed for artists, label managers and other music professionals who want to send music demos and/or promos via email. What makes Sound2Serve different from other available services is that it uses the SoundCloud API for all audio. Users can simply connect their SoundCloud account and use their public and private tracks in their campaigns.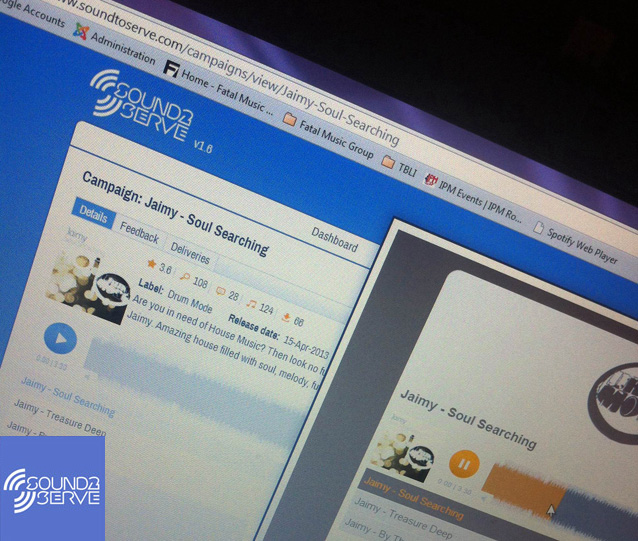 "The advantages of using Sound2Serve are that users do not have to upload any music to our server, making it very easy and affordable to use, and they grow their plays, downloads and comments on SoundCloud with each demo or promo they send out. Killing two birds with one stone," says Iris Bune, co-Founder of Sound2Serve and label manager at Fatal Music Group. "People often asked me what promo service I was using because they found existing services too expensive. As a label manager I created promos manually for that same reason, using private tracks that I uploaded to our SoundCloud profile. This was very time consuming and I got really tired of it. SoundCloud has an open API so I realized this process could be automated", Iris explains.
Sharing her idea with her colleague at that time, Andrei Maiseyenka, who is a senior Java developer, resulted in a two year challenge of building the application together in their private time. After testing for almost one year with a small group of private beta users, Sound2Serve is stable and ready to be shared with others that are looking for an efficient, affordable tool to promote their music professionally.
Since its public launch a few months ago, Sound2Serve sees a steady growth of users coming on board. "It is quick and easy to use. It is my prefered promotool because of the very simple layout and the SoundCloud integration" says Silveer van Deinsen, A&R Consultant at Warner Chappell Benelux. The service provides the same basic features as other promo services, but this does not mean that the development is finished. Behind the scenes the team is constantly looking to improve the service and adding more user requested features. In 2014 the roadmap includes integration with Dropbox, option to add social urls to promos, improved statistics and a re-design of the website.
For more information about Sound2Serve or to sign up for a free account, please visit www.soundtoserve.com
We offer a limited amount of discount codes* to Gearjunkies' readers. Please email support@soundtoserve.com and mention the word "GEARJUNK" in the email to claim your code!
*) 20% discount on a PAID Plan (subscription)