DJ/Producer extraordinaire Richie Hawtin employs the power of RedNet for his ENTER. events at Space, Ibiza. For decades, Ibiza has played a seminal role in the global music scene. Home to a concentration of the world's most famous clubs and dance music institutions, including Pacha, Amnesia and Space, its sandy beaches and rocky landscapes are the backdrop to many DJs' and producers' proudest moments. Ibiza's nightclubs are where the summer's new tracks are debuted, where DJs play their most epic sets, and where clubbers forget the daily grind and lose themselves in the dance.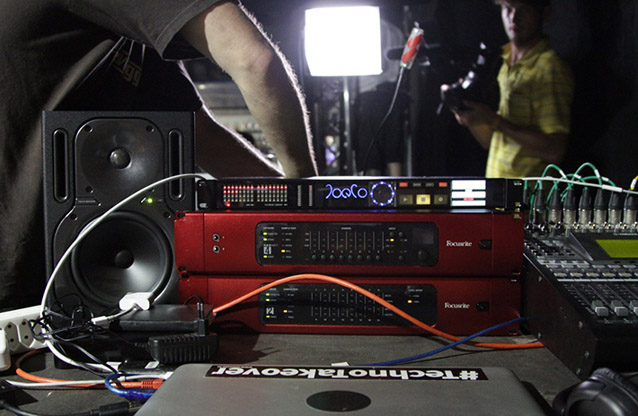 Richie Hawtin, ENTER. and RedNet 4
But the White Isle isn't just a hedonistic paradise; it's serious business. Ibizan clubs and promoters invest heavily in ensuring their visitors have the time of their lives, and the aural experience is the most important factor.
The ENTER. party, which takes place weekly at Space nightclub (voted Best Global Club in 2012), is run by DJ/producer/label boss Richie Hawtin, whose unabated drive to push the technical boundaries of his shows has earned him the reputation as a trendsetter in the dance music community. His vision is to create a unique, fully immersive experience for club-goers. "ENTER. will be a point of entry into new experiences: from new music and DJs through to technology," says Hawtin, and his audio system is certainly helping him to achieve that goal.
Behind the scenes at ENTER.
Focusrite's RedNet 4 audio interfaces are located in the DJ booths of each of Space's five rooms, and are connected by single Cat-6 cables to a central network switch in the club's machine room. RedNet 4 combines eight of Focusrite's next-generation DC-coupled, capacitor-free remote-controlled preamps with the company's most advanced A-D conversion to date. Harnessing the power of Audinate's Dante digital audio network protocol, RedNet allows you to distribute and record studio-quality audio over IP for a diverse range of applications.
For ENTER., the network pipes 96kHz digital audio on the Dante platform around the complex, with miniscule latency and zero signal degradation. Johannes Kraemer, ENTER.'s chief audio engineer, manages the whole system from his MacBook Pro rig, located on the stage beside the DJ booth in the main room.
From here, he records four channels of pristine audio from each room (the stereo output from each DJ mixer and two microphones to record the crowd reactions) on to three recording systems simultaneously: that's 20
channels of 96kHz digital audio being recorded on to three separate recorders at the same time. A JoeCo BlackBox Recorder fitted with a Dante interface card is his primary recorder, with Logic Pro and Cubase running on two separate computers as backups, which all connect to the Dante network using standard Cat-6 Ethernet cabling and Audinate's Dante Virtual Soundcard (DVS) drivers. All the audio feeds can also be monitored by Johannes from his Yamaha 01V96i digital mixer, which is also Dante-enabled.
Despite the complexity of the system, the setup phase was remarkably easy, says Johannes, "I first got my hands on the boxes just three days before the show, but I knew what the devices were able to deliver in advance. I made sure all the firmware was up to date, did a test setup with the six machines, and it just worked! The RedNet 4 preamps are very clear and open — they make you feel like you're in the club with the DJ — and the sound quality of the whole system is very precise, and of course the signal doesn't degrade over distance because it's digital. What's more, it connects to my Dante-enabled Yamaha mixer and JoeCo recorder instantly, with zero configuration needed. It's so simple to use."
ENTER.'s network engineer Bryan McDade was also won over by the system. "Having that ability to put in eight, 16 or 32 channels and record everything to a hard drive and walk away with the entire night's material is great. Digital is where everything is going to go — it makes everything easier!"
Richie Hawtin's ENTER. production ran for 13 weeks throughout the 2013 summer season, featuring guest appearances from Maya Jane Coles, Jamie Jones, Loco Dice and Nina Kraviz, among many more.