MOTU introduces the 828X professional 28×30 audio interface with Thunderbolt technology. As Thunderbolt becomes more widely adopted, Hi-speed USB 2.0 provides across-the-board compatibility with virtually all laptops and desktops on both Mac and Windows. Since USB 2.0 devices are compatible with USB 3.0-equipped hosts, your 828x interface is a future-proof investment in your studio.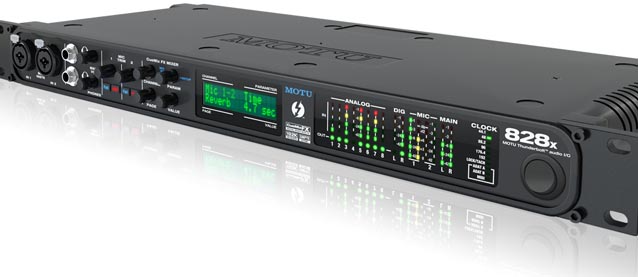 The future of connectivity
Thunderbolt fulfills the promise of a truly state-of-the-art connectivity standard for personal computers. With massive bandwidth, Thunderbolt allows you to connect displays, hard drives, and other peripherals to your computer, along with the 828x, up to six devices total (with the 828x at the end of the chain), and the Thunderbolt bus won't even break a sweat. Thunderbolt combines plug-and-play convenience with massive bandwidth and low latency for truly professional audio interface performance.
28 inputs and 30 outputs
How can one audio interface offer this much I/O?
We pack it in, like no one else can: two combo-style mic/guitar inputs with preamps, 8 balanced analog in/out, XLR main outs, 16 channels of ADAT optical (8 channels at 96 kHz), plus S/PDIF, word clock and MIDI. Connect all of your studio gear, including microphones, guitars, synths, keyboards, drum machines and even effects processors.
Recording up to 192 kHz
Audio quality without compromise
Now in its fifth generation, the 828 has become a benchmark for the industry, setting the bar by which others are judged. How has this level of respect been earned? Through consistent design integrity and intelligent use of current-generation parts and design technologies.
Studio-grade mic channels
Enjoy extras like sends and optional hardware limiting
Do you work with outboard EQs and compressors? Each 828x mic input offers a pre-converter send for mono or stereo mic channel outboard processing. The 828x's unique V-Limit™ hardware limiter employs a proprietary design to offer an additional 12 dB of headroom over digital zero with no digital clipping or harsh artifacts, for that added protection in dynamic recording situations. The 828x's preamps are clean and neutral, allowing you to use your favorite plug-ins and host software to color the sound just the way you want for each recording application.
On-board digital mixer with effects
Mixing and effects for monitoring and live mixing
Record, monitor, route and process all live inputs using the professional on-board CueMix FX digital mixer – with no latency and no processor strain on your computer. Apply DSP-driven compression, EQ and reverb to every input and output, independent of your host computer.
More specifications on the MOTU website.