Sony have introduced the newest version of their Mac-based audio editing application, Sound Forge Pro Mac 2. New features include in-depth metering utilities, top-tier vocal processing, and the freestanding Convrt™ Batch Processing Automation Tool. Seamless integration with SpectraLayers™ Pro 2 provides the finishing touch, delivering the ultimate in waveform and spectral editing program integration.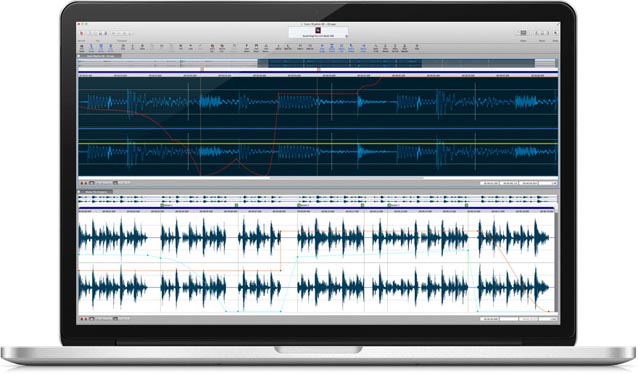 What's new in Sound Forge Pro Mac 2
For surgical editing, excellent signal processing, freewheeling creative play, and even for mechanized routine chores, Sound Forge Pro Mac is the audio editor of choice.
Interoperability with SpectraLayers Pro 2
Transfer audio data between Sound Forge Pro Mac and SpectraLayers Pro 2.1 and experience the thrill of working freely across the world's premiere waveform and spectral editing applications. Open a large file in Sound Forge Pro Mac and transfer selections of any size to SpectraLayers Pro 2.1 for fast, precise editing, then bring the result back to the source file in Sound Forge Pro Mac.
Event Mode improvements
Convert regions to events. Lock event markers, region markers, and envelope points to events. Automatically ripple successive events forward in time while editing.
CALM-targeted metering
Win the volume war with new metering options available in Sound Forge Pro Mac. CALM (Commercial Advertisement Loudness Mitigation Act) compliant metering features help you follow the new rules while maximizing the dynamic range potential of your audio.
FLAC file format support
Generate files in this popular lossless format that features space-saving compression and comprehensive metadata-handling capabilities.
Other new features
Convrt™ Batch Processing Automation Tool
Auto Trim/Crop tool
Volume plug-in
Customizable toolbar
iZotope Nectar Elements Included
Save on the new Sony Sound Forge™ Pro Mac 2.0 through February 28, 2014*.