Today, at Dancefair (Utrecht, The Netherlands) Roland will premiere the new AIRA series to the public for the first time. This presentation will streamed live (see details below). The first four products introduced in the AIRA series are the TR-8 Rhythm Performer, TB-3 Touch Bassline, VT-3 Voice Transformer, and SYSTEM-1 PLUG-OUT Synthesizer.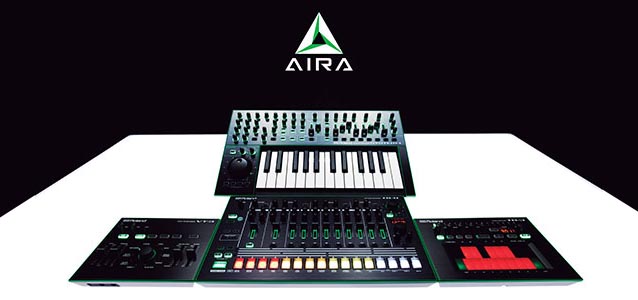 Roland AIRA Series
At the heart of AIRA is the newly developed Analog Circuit Behavior (ACB) that faithfully captures the sound and feel of some of Roland's most revered classics. ACB is the technology behind the authentic sound and responsive behavior of the AIRA products. It utilizes original design specs, consultation with original engineers, and a detailed part-by-part analysis of each analog circuit using Roland's collection of pristinely archived drum machines and synthesizers.
TR-8 Rhythm Performer
The TR-8 is a performance rhythm machine that melds the legendary sound and vibe of the TR-808 and TR-909 with features and functions for the modern age. Unleashed upon an unsuspecting world in the 1980s, the TR-808 and TR-909 produced arguably the most influential drum sounds in modern music. With the authentic tone and character of the original units and with new sound-tweaking capabilities and performance functions inspired by legions of users, the TR-8 breathes new life into these iconic sounds.
TB-3 Touch Bassline
Based on the wildly influential TB-303, the new TB-3 Touch Bassline is a performance-ready bass synthesizer with authentic sound and intuitive controls engineered to play. The TB-3 contains the unmistakable character of its predecessor wrapped in a modern package sporting a pressure-sensitive touch pad that makes both playing and programming a total joy.
VT-3 Voice Transformer
Aggressively processed vocals are common in electronic music today, but producing these effects easily and reproducing them live continues to be a challenge – until now. The VT-3 can smoothly alter Pitch and Formant and can introduce Vocoder, Synth, lo-fi and other heavily processed vocal sounds into studio tracks and live performances with zero hassle.
SYSTEM-1 PLUG-OUT Synthesizer
With the unmistakable character associated with Roland synthesizers for nearly four decades, the SYSTEM-1 not only sounds amazing but has a totally innovative design with performance-ready controls, quality construction, and a dizzying array of lights, knobs and sliders. PLUG-OUT technology means the SYSTEM-1 can control—and even host—software recreations of classic Roland synthesizers with no computer connected and can even switch between its native sounds and those of the PLUG-OUT synthesizer.
All AIRA products are designed to work seamlessly and look great with other products in the AIRA series. AIRA products will be available by the end of second quarter 2014. For more details, please visit www.RolandUS.com/AIRA.
Live Stream!
The Roland Aira series' worldwide launch date is on saturday 15/2, Utrecht Dancefair in Holland. You can stream it live from the Dancefair.
The schedule is as follows (CET):
15:00 – 16:00 – Presentation by David Åhlund and Faisal
17:00 – 18:00 – Presentation by David Åhlund and Frontliner
20:00 – 21:00 – Presentation by David Åhlund and De Sluwe Vos