Loopmasters have announced that they have launched a new label called "Niche Audio". This new label focusses on releasing authentic one shot collections, arranged into kits of 16 samples – perfect for Maschine and Ableton Live. Niche Audio is the label for producers looking for top flight mix ingredients and perfectly processed expansion packs in contemporary styles and genres, mixed and engineered with precision, allowing you total flexibility and inspiration to take your music to the next level!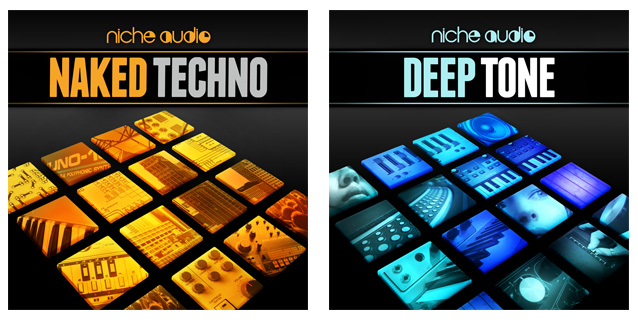 Niche Audio
Focusing on one shot drums, bass, music and fx packs – Niche Audio delivers custom built kits within each native software instrument, including project files, patterns and the one shot samples themselves to give you perfect flexibility and inspiration every time.
The royalty free samples have been carefully selected for maximum authenticity and they use only the very best studio equipment and seasoned producers and audio engineers for their projects.
Naked Techno
This expansion pack is an authentic collection of 15 professionally engineered, mixed and produced Techno kits inspired by three decades of the best melodic Detroit and European Techno. Each Kit has been created from scratch in both Maschine and Ableton Live formats to maximize the use of onboard effects, compression and usability, creating some of the most flexible and inspiring expansions for these DAW's yet to be heard. Expect to find 13 Kits with 16 samples in each, including Cool processed Drums, Angular Percussion, Dark and Atmospheric Pads and Chords, Subsonic Basses and Ethereal FX, combining to create a unique and involving sound palette which inspires and excites.
Also included are 2 additional special kits which feature exquisite Bass and Special Fx samples for additional sample layering. Project files are included with patterns for each kit demonstrating the balance and combination of sounds that can be achieved, and to act as a starting point for your productions. Each Kit features subtle mix and fx customization to maximize its playability whilst maintaining its balance in the mix and will work perfectly with other external ingredients to create a fantastic track.
Inspiration for Naked Techno includes artists and labels such as Jeff Mills, Juan Atkins, Derrick May, Larry Heard, Trentemoller, Adam Beyer and Carl Craig, R+S, Redplanet, UR, Bellboy, Music Man, Soma, Aquatrax etc.
Deep Tone
This expansion pack is a fresh and exciting collection of 15 perfectly engineered authentic Deep House kits inspired by the classic and current Deep House scene. Deep Tone has plenty of Fat Kicks, Crisp Snares, Cool Chords, Glitched Vocals, Sub Tones, and Smooth Pads within its 13 perfectly mixed Kits, and also includes 1 Special FX kit, and an additional Synth Kit.
Also included are 2 additional special kits which feature exquisite Synth Tones and Special Fx samples for additional sample layering.
Inspiration for Deep Tone includes artists such as Dusky, Groove Armada, Joris Voorn, Detroit Swindle, Hot Since 82, and the Classic Deep House artists from the 1990s.
Launch Offer
Buy Deep Tone or Naked Techno at the Loopmasters website and you'll get Beat Machines TR909 for FREE!