Effectrix is the industry standard for audio manipulation. Always tight and as easy to use as finger paint. On the iPad, Effectrix shows off it´s incredible usability. Just grab and draw Effects for immediate results. All common interfaces such as Inter App Audio or Audio Bus are supported. Effectrix works in Auria and also will import songs from your iTunes library. Now available on the App Store.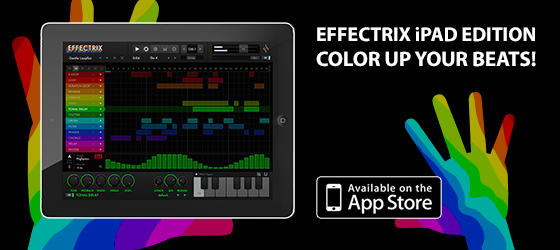 Sugar Bytes Effectrix
Sugar Bytes's game-changing tool for creative and efficient music production is now available on the iPad: scatter 14 intelligent effects across a sequencer matrix and create unheard-of sound patterns and cheeky loop collages.
A playful workflow, refined algorithms and carefully parameterised effects lead to outstanding
results – fast! The effects, each exceeding conventional wisdom, cover a wide spectrum from classy standards to scandalising splatter orgies.
This iOS port faithfully recreates the desktop engine, today's de-facto standard of finest audio manipulation.
iPad Edition Features
– Integrated Player (iTunes File Sharing, Music Library, Factory Loops)
– Integrated Recorder (various options: Start/Stop/Sync/Length)
– Live Modus (Inputs & Outputs selectable)
– Inter-App Audio (Effect) & Audiobus Support (Sender & Effect)
– Audiocopy™/ Audiopaste
– Full Midi Support (Virtual, Network, Extern)
– Midi Clock Sync
– 20 fine loops installed
– 230 factory presets (100 global, ca. 9 per effect)
– Redesigned GUI for perfect touch experience