Professional audio equipment manufacturer Alta Moda Audio today debuted the AM-30, its first ever microphone preamplifier and the latest product in Alta Moda's expanding range of popular 500-series rack products.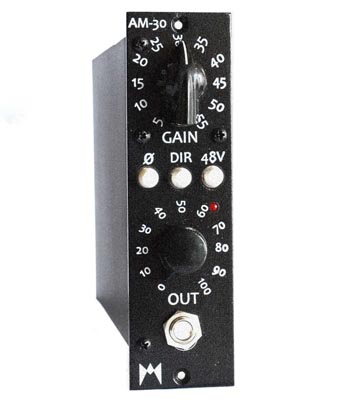 Alta Moda Audio AM-30
The Alta Moda AM-30 is a fully discrete, class A transformer-less design unlike any other preamp on the market. Clean at lower settings, the AM-30 can be pushed and smoothly overdriven where other preamps would harshly clip. The AM-30's high headroom and DI input make it ideal to warm up previously recorded tracks or loops. Made in the USA, the AM-30 has a MSRP of $499 USD.
Gain Control
An 11-position rotary switch sets overall gain of the first amplifier stage. Unlike other transformerless designs, this first stage has soft, even-order harmonic overload characteristics, similar to a vacuum tube triode.
Output control
Controls the output level of the AM-30. It is a true continuous fader; it ranges from "0" up to an additional 6 dB of overall boost.
Signal presence light
To make recording session setup easier, the AM-30 is equipped with a simple "signal present" indicator light. Since it is difficult to clip the AM-30's front end (and better to judge sound quality by ear), no clip indicator is needed.
Direct Input
A standard 1/4″ phone jack allows instruments such as bass and keyboards to be amplified directly. This FET-based circuit drives the input of the preamp just as a microphone would.
500-Series Rack Compatability
The AM-30 is compatible with any 500 series rack system which has 48V phantom power available. To achieve its maximum headroom, the AM-30 effectively uses all three available power supply rails for its power source.
Alta Moda makes the highly acclaimed Unicomp all-discrete stereo compressor/limiter as well as a line of quality, high-performance modules for 500-series compatible rack enclosures. A complete list of Alta Moda Audio dealers can be found at www.altamodaaudio.com.