Tek'it Audio has announced that Neogen, a hybrid morphing synthesizer VST plug-in, has been released. Neogen is a hybrid (phase distortion / subtractive) polyphonic synthesizer with sound morphing capabilities and a rhythmic arpeggiator/sequencer. Design your sound using the 56 variation of waveform shapes, the sub-oscillator, 11 filter types, 3 envelopes, 5 effects including a two voices chorus and an auto-pan.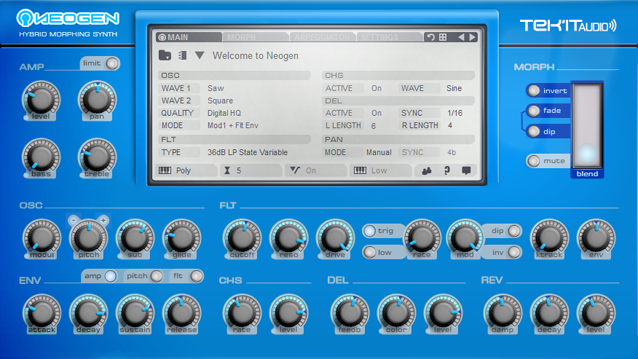 Neogen features
Phase distortion oscillators.
56 variation of waveform shapes.
5 oscillator quality modes, HQ, Digitized, Sampler Computer, 8bit, 8bit Glitch.
4 modulation types.
1 square wave sub-oscillator.
Monophonic Glide.
11 Filter types from low-pass with an analog tone to variants that sounds digital.
Filter drive control.
Filter modulation with rate and depth control.
Filter modulation rate can be sync on the beat.
Triggering, Dip wave and Invert modulation controls.
ADSR amp and filter envelope, AD pitch envelope with depth control.
2 voices chorus, sync delay, reverb and auto-pan effects.
Bass and treble tone control.
Switchable output soft limiter.
Sound morphing with depth control on any parameters.
Visual feedback of the amount of morphing effect.
Morphing fade with 2 envelopes modes.
8 voices arpeggiator sequencer.
8 pattern by presets.
Save, Load pattern and patterns bank.
Support MTS (MIDI Tuning Standard) file.
Velocity amount control on 12 parameters.
10 Velocity curves.
Full MIDI automation support.
Easy MIDI learn on all parameters.
Use 7-bit MIDI Continuous Controller or High resolution 14-bit MIDI NRPN and RPN.
Selectable Maximum MIDI pitch bend range.
Four note playback priority mode.
Selectable envelope re-trigger mode.
Preset manager, rename, copy, save, load…
Undo your changes to initial preset value.
One click randomize for all parameters.
326 Factory presets.
A demo version of "Neogen" is available to download as a VST plug-in for Windows. The full version is available to purchase for a limited time at an intro price of €39 / $55 (normal price will be €49 / $69).
Till monday March 31st (2014) 30% off with code: LCLCH30