Audient can reveal that Windows drivers are now available for iD22, extending the benefits of its high performance AD/DA interface and monitoring system to all PC-based recordists.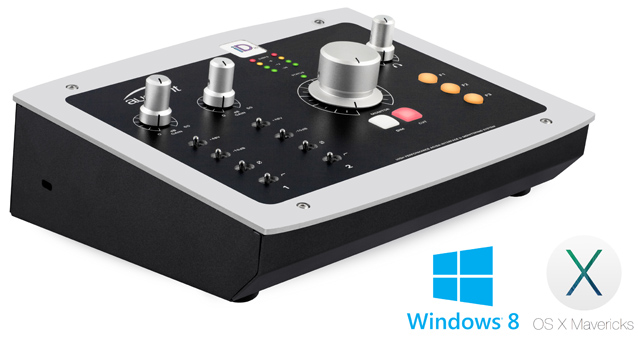 iD22 Windows drivers
The arrival of drivers for this platform now allows Windows users to enjoy multi-application support for WDM and ASIO and an efficient and innovative low latency Mixer Application. The drivers are compatible with Windows 7 and Windows 8. This news comes hot on the heels of the announcement of iD22's compatibility with Apple's OS X Mavericks software, together with its brand new pricing. It is no wonder then, that iD22 is at the centre of a growing number of desktop studios around the globe. To download the Windows driver please click here.
One of these is renowned record producer/mixer Romesh Dodangoda, (Motorhead, Kids in Glass Houses, Funeral for a Friend) whose studio is built around his large format console, Audient's ASP8024. The addition of iD22 has transformed his portable rig into a world-class recording system by connecting directly to his mics, computer and monitors, giving him a whole lot more flexibility when he's not with his desk. "I can take my Audient console mic pres with me on the road," he says. iD22's two Audient discrete, console Class-A hybrid mic pres are exactly the same as those from the ASP8024, so there's no question of compromising on quality.
With the user-base now broadened to include PC users, Audient hopes iD22 will help enhance yet more users' creativity. For full system requirements please click here.
Features
2-in, 6-out high performance 24-bit/96kHz AD/DA converters
2 superb class-A mic preamplifiers & 1 discrete JFET instrument input
Fully balanced insert points for integrating outboard gear
High current headphone amplifier fed by an independent DAC
Low latency DSP mixer for artist mixes
Main and alternative stereo outputs
User defined monitoring functionality with hardware control
USB2.0 class compliant connectivity – Mac OS10.6.8 or later
Multi-application ASIO and WMD drivers for Windows 7 and later