Hornberg Research is a small and young company in the south of Germany founded by Martin Raschke and Mick Baumeister. Mick is a professional film composer. He is working for more than 30 years for the German Film- and TV-Providers. When the BC3 disappeared from the market he begged Martin to develop a new breath controller because he needs a replacement to continue his work. The goal was to develop a stable, durable and high flexible tool that gives your work more expression and makes your daily work more easy and intuitive. This is why the hb1 MIDI Breath Station has been developed.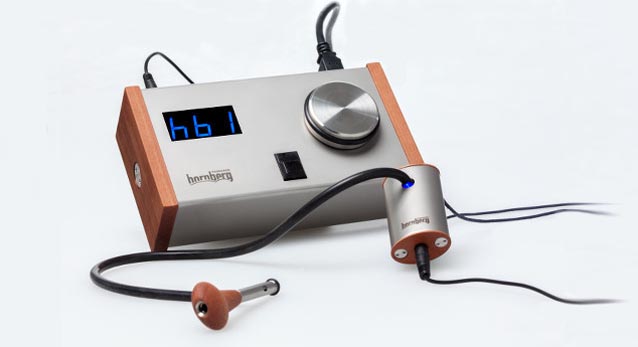 HB1 MIDI Breath Station
This controller enables you to regulate any electronic instrument or peripheral device with MIDI or USB-port. The special wooden mouth piece, a precision sensor and the combination of a MIDI-merger, an integrated MIDI-interface and the innovative parameters create the premise for a high precision and highly sensitive performance of your ideas, in studio or live. Seven of the nine parameters allow an adaption of various details and impulses in your music. For instance, the adjustable "Release" allows breathing in without a gap in the sound. The "Dynamic Attack" parameter allows for sensitive sound control, even in the finest pianissimo. Real-time data reduction, Inversion and Limitation of the signal and, of course, Drive and Offset are all a part of the setting options. Each parameter can be saved in 25 presets. Additionally, the breath-data is displayed constantly on the Breath-Value Display.
The hb1 approach is innovative and progresses far beyond the possibilities of a common breath controller. Through the integration of standard MIDI and USB-ports, the hb1 functions with or without a computer.
The hb1 is hand-crafted in Germany with great attention to detail as well as with a focus on the aspect of sustainability. As they think the hb1 gives you the freedom and the possibility to realize your inspiration. There is a lot of fun working with the hb1 because it let you do what you really want to do.