With Beatport Pro software you can manage your music collection within a free application built by DJs for DJs. Create and manage playlists, add extended metadata, tag your music with attributes, use advance filtering tools, and shop with multiple carts.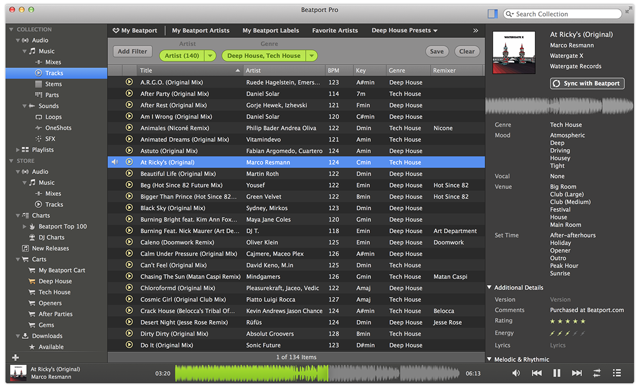 Manage Your Music Collection
Import and organize your music collection. Create and manage playlists. Add extended metadata to your entire collection, and use advanced filtering to view your music collection in new ways. Organize your audio by tracks, mixes, stems, parts, loops, oneshots, and sound effects.
Find

the Tracks You Love

With advanced filtering tools, the new Beatport Pro simplifies the experience of discovering new music on the Beatport store and in your collection while digging for that perfect track.
Transform

Your Library With Tags

Tag your music collection with attributes such as "venue," "mood," "instruments," and "processing." No more hacking your comments or genre tags. Sync your entire music collection with the extensive Beatport catalog to make sure your metadata is complete. Transform your music collection in ways you never imagined possible.
Shop

With Multiple Carts

Use multiple carts as a flexible categorization system while you shop. Separate your carts by genre or energy, or create carts for each gig that you've got coming up. The possibilities are truly endless.
Experience Perfect Integration
Your audio library can be shared between other popular applications and Beatport Pro. Want the power of Beatport Pro, but still be able to access your files in iTunes, Traktor, or Rekordbox the way you always have? They've got you covered.
Beatport Pro made for Mac OS X Mountain Lion or newer.