XILS-lab is proud to announce availability of XILS 3 V2.0 — an updated version of its authentic-sounding software emulation of the groundbreaking late-Sixties-vintage EMS VCS3 portable analogue synthesizer, scaled up to also emulate EMS' early-Seventies-vintage Synthi Sequencer 256.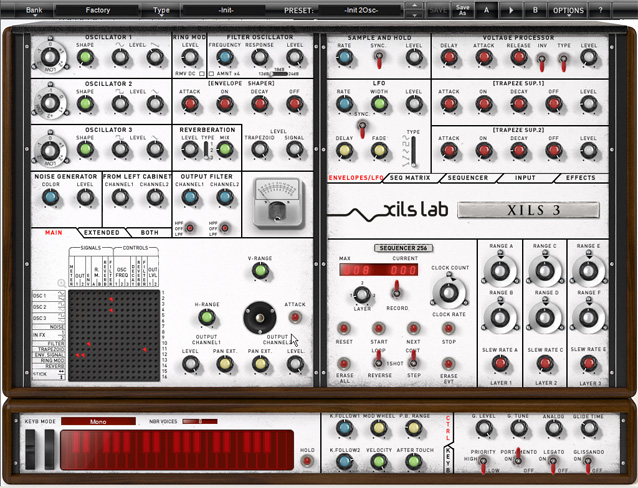 EMS VCS3
The British-built synth — or Electronic Music Studios Voltage Controlled Studio #3 to give it its full appellation made musical history upon its 1969 introduction as the first commercially portable synthesizer available anywhere in the world. Its innovative modular matrix-based patchboard dispensed with the telephone exchange-like cabling of other (much larger) modular systems in favour of making connections with (removable) coloured pins, so it could be comfortably housed in a small wooden (solid afrormosia) cabinet. Distinctive in both its physics laboratory test equipment-lookalike looks and strange-sounding sound effects, the VCS3 quickly found favour with the more experimental leading lights of the day, including the BBC Radiophonic Workshop (think Dr Who), Brian Eno (with Roxy Music), Jean-Michel Jarre, and Pink Floyd, to name but a few first-generation famous users, before being effectively killed off by a wave of powerful programmable American analogue polysynths and the more mainstream (and affordable) digital developments that ultimately changed music making forever.
But what goes around comes around. Today those strange sounds are sought after again and new VCS3s are available to order from a former EMS employee — at a premium price tag with an accompanying long wait, while XILS-lab's cost conscious and award-winning XILS 3 software emulation for Mac (OS X 10.4 and above) and PC (Windows 7, Vista, and XP) proved popular with both first-time buyers beginning a wonderfully in-depth journey into the wonderful world of modular synthesis and also seasoned synth explorers, including renowned sound designer Richard Devine and original VCS3 aficionado Tim Blake (Hawkwind), as well as Peter Zinovieff himself, who commented kindly: "A great step forward!"
XILS 3 V2.0
Time stands still for no one or no thing, however. Nowhere is this more apparent than in the here today, gone tomorrow world of music software. So what's new in XILS 3 V2.0 for Mac (OS X 10.5 and above) and PC (Windows 8, 7, Vista, and XP) from XILS-lab, then? The attractive, all-new GUI is clear for all to see from the outset. But beauty is not only skin deep in this ergonomically-enhanced case. It's as easy to use as it is easy on the eye with workflow improvements in abundance. Users can now zoom in on all matrices, for example, while continuous modulation amount is now possible within the pin matrix itself — with advanced 'swivelling' pins providing so much more than eye candy (though they do look lovely)!
Likewise, polyphonic sequencer workflow is radically improved in the SEQUENCER 256 module, inspired by EMS' trailblazing Synthi Sequencer 256 namesake. Needless to say, this three-layer sequencer with analogue-to-digital and digital-to-analogue converters to enable digital processing of control voltages to drive multiple analogue synthesizers or multiple parameters with storage of up to 256 'events' was well ahead of its time when released in 1971. Here in the virtual world, XILS-lab has well and truly transported it to the present day with three independent layers, slew rates, and recording modes, together with added abilities like sequencer layers acting as modulation sources in a dedicated SEQ MATRIX — matchless, even by today's most sophisticated DAW standards!
So is that all? No, not at all! Adding a second matrix with two additional envelopes, an LFO, comprehensive SAMPLE AND HOLD module, and VOLTAGE PROCESSOR, plus several new input modules — including GATE, ENVELOPE FOLLOWER, and PITCH TRACKER — means that there are hundreds of additional connections available to the discerning synthesist set on exploring XILS 3 V2.0 to the full as a superlative soft synth or as a powerful effects processor plug-in in its own right. In fact, there are over 800 different connections per patch with 'only' 583 simultaneous connections to boot… but who's counting, anyway! Add a gorgeous 18dB filter emulation alongside a three-mode analogue chorus, delay, and phaser, plus much more besides, and what have you got? A truly '21st Century VCS3' that is, indeed, a great step forward, that's what! What's more, 150 new presets and an improved (retagged) factory bank makes for a more meaningful starting point for your own modular journeying, wherever it may take you.
Pricing and availability
XILS 3 V2.0 is available to purchase as an eLicenser or iLok copy-protected virtual instrument and effects plug-in for an introductory discounted price of €120.00 EUR (rising to €149.00 EUR on May 1, 2014) from the XILS-lab web store. (Note that this time-limited offer also includes the XILISTICS sound bank for XILS 3 with 160-plus presets worth €25.00 EUR, equalling an overall saving of €54.00 EUR!)
XILS 3 V2.0 can be directly downloaded as a 32- and 64-bit-compatible virtual instrument and effects plug-in for Mac (AAX, AU, RTAS, VST) and Windows (AAX, RTAS, VST) from here: www.xils-lab.com.