Solid State Logic (SSL) recently came out with 3 new plugins in their Duende Series: the X-Valvecomp, X-saturator & X-Phase.Time for a test drive!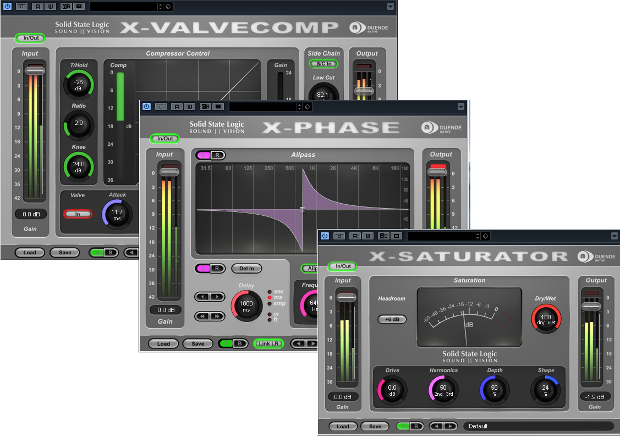 X-Valvecomp
X-Valvecomp is a tube compressor emulation that adds harmonics to the original compressed signal. The GUI is very well layed out and easy to get the hang of. Input and out put signals are seperately controllable, just cick and drag to set the meteringlevels to your desire. A very smooth working bypass in/out button is also provided to check exactly what the plugin is doing to your signal. Sidechaining capability is also built in and also you can low cut or high cut the sidechain signal, moothing out the compression by cutting out the low end of the sidechain signal for instance.
The compressor controls can be set via the draggable nodes in the interactive compression display, or via the dedicated knobs. The valve compression can be on or off so this plugin can be also used for regular compression. A mix knob is also on board to give you the opportunity to use parallel compression aka new york compression. Autogain is also provided or you can set it manually as well as A/B Comparison to quickly check 2 different settings on the signal.
The compression itself is very nice and snappy and the knee-setings are from soft to hard knee. Some presets are provided to get you started but with compression it's always dependent on the signal you feed it.
X-Saturator
This a saturation plugin that can add 2nd or 3rd order harmonics to your signal. All the basic stuff is there again like the in/out a/b presets etc. The middle of the gui is where the magic happens, saturation and then some 🙂 a VU meter lets you see the level of the saturation. A headroom knob is provided to add 6db of headroom above the saturation point.
Dry/wet for parallel processing, a drive knob to adjust the amount of overtones that you add to your signal,harmonics for adding or decreasing 2nd or 3rd order harmonics, and lastly the depth and shape knobs that control the level of the harmonics that are put back into your signal.
2nd order harmonics are often associated with 50s valve style overdrive, so kind of a warm and gentle sound, 3rd order harmonics are like 70s transistor style, so kind of a more gritty and grimey sound.
X-Phase
Last but not least there's X-phase which is kind of different beast this plugin is made for fixing phase problems, but also fixing phase problems within different frequencies.
This is pretty scientific stuff through using allpass filters huge phase problems like comb filtering can be battled. In the middle of the GUI is the Allpass filter separately the left and right delay of the signal can be adjusted in Sec, Millisec,Sample, Meters and Feet.
In the allpass filter section the frequency filter and q-factor can be adjusted. And the allpass phase can be inverted. The filter knob switches between first and second order. In the manual is a very good explanation of the phase phenomenon. This is a plugin that you need to check yourself on a signal, and sometimes you will be baffled at how much clearer the signal can get after using X-Phase on it.
Final thoughts:
SSL has really delivered some stunning plugins that are easy to work with and sound very very good. The valve and saturation components really can boost your level of for instance kick drums or bass and adding some pleasing harmonic overtones to it. X-phase can help you solve some nasty problems that you can encounter while mixing. All in all a well rounded pack of plugins, so go and check them out yourself.
More info at: www.solid-state-logic.com
Rob Fabrie